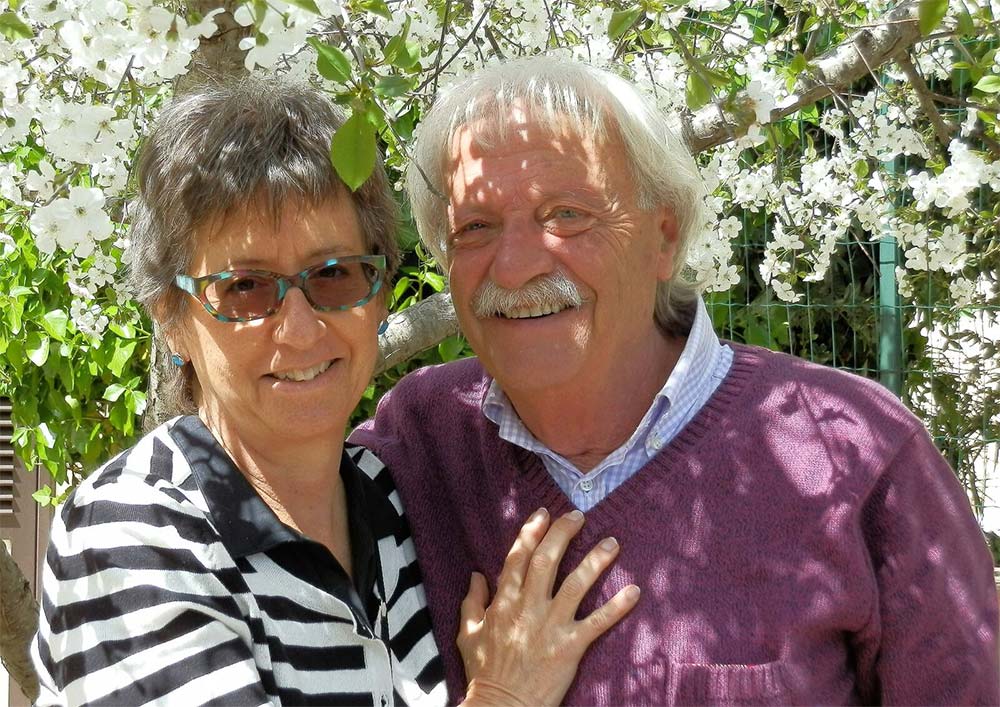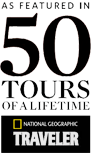 Anita Iaconangelo & Emanuele Lorusso founded Italian Connection Tours in 1993, and live in a restored farmhouse near Modica, Sicily. Expect to be invited to lunch when you are nearby!
They began Italian Connection when they lived in Tuscany and offered just a few walking tours in Italy, with Anita on the trail and Emanuele in our van appearing at just the right moment with snacks and good humor. While Anita scouts out the loveliest trails and best boutique hotels in Italy, Emanuele searches out the perfect picnic spot, while they both have happily spent hours eating and drinking their way through Italy – this all adds up to an authentic insider experience for our tour participants.  Many of our culinary and walking tours in Italy are still led by Anita and Emanuele, along with their team of expert local guides who provide unsurpassed knowledge.
Recently Anita and Emanuele have expanded our destinations to places they have loved on their our own warm winter vacations in Costa Rica and Cuba, and we can't wait to share them with you. Join us for a memorable vacation that will leave you refreshed and enlightened, and longing for more.
We offer both small group tours and private tours in Italy and beyond.
Small group tours are offered on selected dates with a maximum of 12 participants.
Private custom tours for individuals, families, or groups that are tailored to your interests.

Want to know more about our walks, accommodations, or cuisine? Here's what to expect on an Italian Connection tour:
Walking Levels

Our walks are rated for their level of difficulty as follows:
Stroll – Daily distance of 2-5 km (1-3 miles) through archeological sites and in towns with stone stairways. Footwear: Lightweight walking shoes.
Easy – Daily distance of 8-10 km (5-7 miles) on dirt paths and gravel roads, with short ascents & descents. Good van access for assistance along the route. Footwear: Sturdy walking shoes.
Moderate – Daily distance of 12-16 km (8-10 miles) with longer ascents & descents. May include cobblestone paths and steps, or narrow paths along terraced hillsides. Some van access or options for shorter walks. Footwear: Sturdy walking shoes or lightweight boots.
Fitness – Daily distance of 12-16 km (8-10 miles) with steep ascents & descents. Walks are at altitudes of 1200-2450 meters (3500-8000 feet) on trails and forest service roads, some rocky or exposed sections. Limited van access, options for shorter or longer routes. Footwear: Lightweight boots.

Accommodations

Don't be surprised if many of the hotels we stay in have not yet made it into the guidebooks — we find them before anyone else! Our small groups enable us to use intimate hotels not available to larger groups, and you'll find our accommodations are superior to many higher-priced luxury walking tours since we reserve the best upgraded rooms rather than standard ones.All of the lodgings we use on our tours have been personally visited and hand-picked for the best combination of comfort, warm hospitality, and location. Our walking tours in Italy offer these levels of accommodation:
Signature
Our Signature luxury walking tours in Italy feature the best rooms in boutique hotels, deluxe country estates, and sumptuous spa hotels.
Examples of our Signature hotels include:
La Palazzetta del Vescovo, Umbria Hilltowns walking tour
Baglio Oneto deluxe sea view rooms, Splendors of Sicily walking tour
Rosa Alpina San Cassiano, Wildflowers in the Dolomites walking tour
Masseria Torre Coccaro deluxe rooms, Puglia Walk
Cristallo Hotel & Spa, Cortina Luxury Hike
Essential
Our Adventure tours offer Essential level accommodation in great locations, with unsurpassed hospitality. These are less upscale yet quite charming family-run inns or farmhouses, and are especially suited to small groups of family and friends, and offer excellent value.
Examples of our Essential hotels:
Il Mulino on Capri, Amalfi Coast Adventure walking tour
Sueño Cubano Hotel, Explore Cuba Tour
Blend
Blend tours offer a combination of Signature boutique hotels and charming Essential style inns.
Luxury Rental + Tour
Our Luxury Rental + Tour accommodations are in beautifully restored townhomes for 2-4 people.  We can also arrange a villa rental for larger groups on a private tour.
Example of our Luxury vacation rentals in Italy:
Alberto Charming Home in Montepulciano, Inside Tuscany Private Tour
Ragusa Home on our Sicily Unlocked Tours – Coming Soon!
Villa-Based Tours are available for private groups in Sicily, Puglia, and Lake Como – Contact Us.

Cuisine

Great food and wine are an integral part of every Italian Connection tour, with regional culinary delights that cry mangia!
We feature ala carte dining on our Signature and Blend tours, and select both fine restaurants and more casual trattorie so that meals are as unique as the atmosphere.
Being part of an Italian family for an evening is a special experience, and some of our favorite meals are in the private homes of our friends, where we are treated to warm Italian hospitality and great home cooking.
When dining in a top Michelin-starred restaurant in Italy, we'll dispel any idea of stuffiness by personally introducing you to the chef, and hope some of that talent rubs off!
An impressive selection of top Italian wine is included with our meals on Signature and Blend tours. Play "name that region" with glasses of Chianti, Brunello, Nero d'Avola, Primitivo, Sagrantino, or just quaff!
Our Adventure tours in Italy offer limited menus with a focus on homey regional cuisine and farm-to-table dining that is always fresh and varied. House wines and non-alcoholic beverages are included.
Our Culinary tours in Italy connect you to a region through its unique cuisine, and feature shopping with the locals at colorful markets, visits to traditional cheese-makers, hands-on cooking lessons, and leisurely farm-to-table meals with plenty of wine to wash it all down.

Ready to Start?
View Our Tours