Most state-run museums and archeological sites in Italy offer free entrance during Culture Week, April 14-22, 2010, which the sharp-eyed will note, is actually 9 days long.   The Settimana della Cultura is an annual event, and is typically a favorite time for school field trips, which means that sites can be crowded with kids who could care less about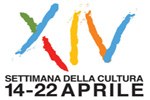 where they are, just as long as it is not their regular classroom.  But hey, it is free.
In addition, there are sites not normally open to the public that can be visited on specific days during Culture Week.  In 2012, special exhibits, concerts and guided tours will enrich the program.
Read more about places to visit and unique attractions in Italy: