The opening of the Cacioteca Regionale di Sicilia – the Sicilian Regional Cheese Consortium – is being celebrated during Cheese Art 2012, which includes two days of Tasting Workshops with traditional cheeses from around the world.
The Consortium works towards elevating the production of historic traditional cheeses to the status of "works of art."  The idea is that great cheeses should be considered among Italy's important cultural assets, holding a place beside the many works of art for which the country is famous.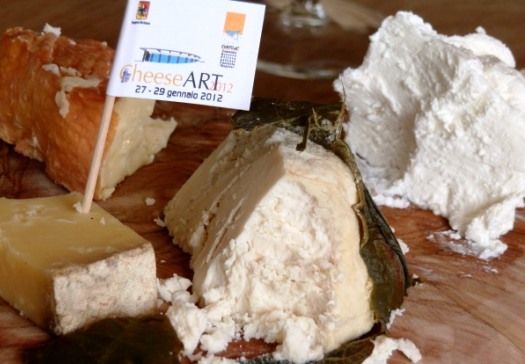 During Cheese Art 2012, cheese tastings will be available with various cheese boards paired with locally sourced cured meats (priced at 14-20 euro) or you can join in the Tasting Workshops on January 28 & 29, when traditional cheeses from around the world will be paired with Sicilian wines from Cerasuolo di Vittoria and Planeta, or beers from the Baladin microbrewery of Piedmont.  Cheesemaking demonstrations will take place during the course of the event – we know this is great fun, as we include it on our Eastern Sicily walking tour.
Here are the cheese tasting menus  in Italian, or check out the listing at the end for the 2012 Cheese Art Tasting Workshops and where they are.
Read Similar Stories:
Cheese Art 2012 – Cheese Tasting Workshops
Saturday January 28:
13.30 – 15.00 "Drowned in Beer"
Robiola di Roccaverano, aged goat cheese in cherry leaves (Piedmont)
Frumage Baladin (Piedmont)
Piacentinu Ennese DOP, sheeps milk with saffron (Sicily)
Perdido Cheese (Usa
Vezzena di malga (Trentino Alto Adige)
Castelmagno d'alpeggio (Piedmont)
Roquefort (France)
Paired with artisanal beers from Baladin
Cost  €24,00
19.30 -21.00 "European Breeds"
Camembert (France)
Queso de la Tetilla (Spain
Provola dei Nebrodi (Sicily)
Aged Pecorino di Farindola (Abruzzo)
Salers (France)
Goat Cheddar Quickes (England)
Erborinato sheep cheese, alpi cozie (Piedmont)
Paired with Planeta wines
Sunday January 29:
11.30 – 13.30 "Brunch Cheeselandia"
 Brunch prepared by Accursio Craparo (chef of 1-star Michelin restaurant La Gazza Ladra  in Modica) and Corrado Assenza, the pastry chef of Caffè Sicilia in Noto, and will end with this cheese board:
 
Mozzarella di bufala (Sicily)
Organic Robiola from "happy goats"(Veneto)
Ragusano DOP, aged and semi-aged (Sicily
Beaufort (Francia)
Red Cheddar (England)
Stilton (England)
Paired with wines from Planeta, and the Consortium of  Cerasuolo di Vittoria  as well as artisan beers from microbrewery Baladin
Cost  €35,00
19.30 – 21.00 "European Pastures"
St. Nectaire (France)
Manchego (Spain)
Raschera DOP d'Alpeggio (Piedmont)
Tuma persa (Sicily)
Monte Veronese d'allevo DOP di malga (Veneto)
Blue deTermignon (France)
Blu capriziola, goat cheese (Lombardy)
Paired with Sicilian wines from the Consortium Cerasuolo di Vittoria
Cost €24,00
Details:
To reserve in advance, fill in the online form  or phone:
Tel. +39.0932.660.427
Located at km 5 on the SP 25, the main road from Ragusa to Marina di Ragusa.
E-mail: [email protected]