On a trip through Tuscany, if you stop in Siena and visit the Palazzo Pubblico in the Piazza del Campo in Siena, make sure you take a good look at the fresco entitled Effetti del Buongoverno in Campagna – Effects of Good Government on the Countryside. Painted by Ambrogio Lorenzetti in 1337, the fresco depicts life as it should be when a state is governed properly, and this political statement on life in Tuscany in medieval times includes a very special pig.
In the midst of this splendid fresco, look closely and you'll find a depiction of Tuscany's only remaining native swine,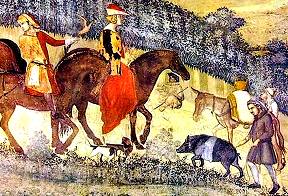 the cinta senese, easily identified by its unusual coloring. It's a black pig with a white band around its midriff – the white band is the "cinta."
Prized for its delectable flesh marbled with fat, the cinta senese swine is a free range pig that forages in Tuscany's forests and fields near Siena, dining on acorns, tubers, and wild grasses.
Since it cannot be raised in pens, the cinta senese breed of pig was in danger of extinction, but alert foodies in the Slow Food movement have helped reintroduce the species on small farms. Today there are an estimated 200 cinta senese sows in Tuscany among 80 herds. The cinta senese breed is soon to receive DOP status.
You can find cinta senese food products of prosciutto and salami in specialty grocery shops in Tuscany, such as Porciatti, in the town of Radda in Chianti.