Our Puglia Walk has left our participants with a taste for Pugliese hospitality, be it on the trail or at the dining table. One of the delicious items that we never tired of eating during our walking tour in Puglia was focaccia in its many variations, and always a hit during our antipasti feasts. Truth be told, we often went no further than antipasti, having been more than satisfied by the amazing variety the cooks in Puglia can turn out. And after a day on a walking tour in Puglia past 2000- year olive trees,  you will feel that you deserve a hunk of focaccia drizzled with olive oil!
Like all our Italian recipes, this recipe for focaccia from Puglia calls for quality ingredients, otherwise you won't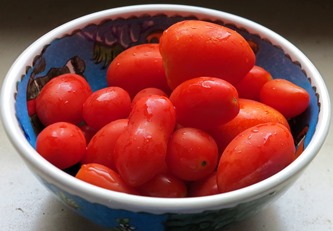 come close to imitating the real thing that has inspired our taste buds. You will need excellent extra-virgin olive oil, sweet little tomatoes, and fragrant dried oregano. Try to find an oregano variety still on the stem from Sicily or Puglia, and avoid the oregano available in most spice jars, which resembles bitter sawdust – who wants to eat that?
You will also need hard wheat flour, sometimes called semolina flour, but it MUST be finely ground. Here in Italy, it is called "rimacinato", which literally means "re-ground", and is used in the making of bread, pasta and focaccia, particularly in Puglia and Sicily.
You will need to allow time to preheat your oven to its highest temperature – a wood-fired oven is even better – for this quick baking focaccia from our Puglia walking tour.
The simple to make dough contains both all-purpose and hard wheat flour, a potato that has been cooked and mashed, salt, yeast, and olive oil. Rising time is about 90 minutes, and baking time just 12-15 minutes.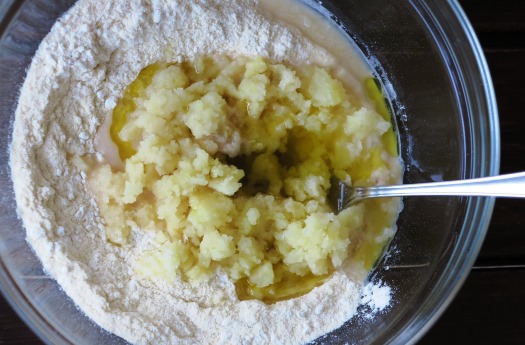 Serve the focaccia warm or at room temperature, cut in wedges or small squares as an appetizer, or pop it into the breadbasket for a main-course treat. Paired alongside an egg, Puglia-style focaccia also holds its own as a savory breakfast bread, making for a pleasurable start to the day. In other words, focaccia from Puglia is a delight to eat anytime, though it tastes best during the course of our Puglia Walk!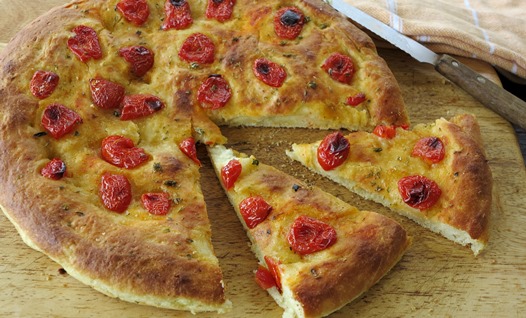 Compare this to our recipe for Focaccia from Liguria
Join us on our next departure of our Puglia Walk!
Focaccia Recipe from Puglia, Italy
Ingredients
125 grams (1 cup) 

all purpose flour

125 grams (1 cup) 

hard wheat "semolina" flour, finely ground

1 tsp

 

salt

1 med.

 

potato, boiled until soft and mashed

20 grams (1 ½ TB) 

extra-virgin olive oil

12 grams (1/2 oz.) 

fresh yeast

100-150 ml (2/3-3/4 cup) 

warm water

125 grams (5 oz.) 

ripe cherry tomatoes

Oregano

Salt

Extra-virgin olive oil
Cooking Directions
Crumble the yeast in half of the warm water and let proof.
In a large bowl, mix together both types of flour, the salt, potato, and oil, and the yeast mixture. Slowly add the remaining water (you may not need it all) until the dough holds together.
Knead the dough on a floured board or clean countertop for 5 minutes.
Place the dough in an oiled bowl, coating the top of the dough with oil, too.
Cover with a cloth and leave to rise for 90 minutes.
After 1 hour, preheat your oven to its highest temperature (mine only goes up to 250°C or 475°F, but if your oven can go up to 270°C or 525°F, then set it there).
Prepare the cherry tomatoes by washing them, cutting off the stem end, and slicing them down the middle.
Once the 90 minute rising time has been reached, punch down the dough, oil a baking pan (I used a 28 cm  or 11″ round pan), and place the dough in the oiled pan.
Spread the dough out with your fingers until it touches the sides of the oiled pan.
Squish the tomatoes with your fingers to release their juices onto the focaccia dough, and place the tomatoes cut side down, spaced evenly across the surface of the dough.
Generously anoint the dough with extra-virgin olive oil, drizzling it over the entire surface.
Sprinkle salt and crumbled dried oregano over the surface.
Place on the lower rack of a preheated oven and bake for 12-15 minutes until dough is nicely browned on top and underneath.
Cut the focaccia into wedges or small squares and serve.
Variations: Instead of using tomatoes, you can flavor the focaccia with black olives and thinly sliced onions, a variety of cooked vegetables such as sliced artichokes or peppers, or just make simple unadorned version with oil and salt.
I make this focaccia from our walking tour in Puglia quite frequently, and it is always a favorite among both my Italian and foreign friends.  This is only one of the many delicious dishes we'll feast on during our Puglia walking tour, so come join us!