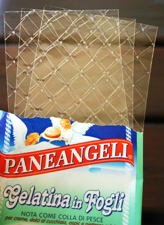 Panna cotta has its origins in Piedmont, but it is now commonly found in restaurants in other regions of Italy such as Tuscanyand Umbria.  In Piedmont, it was traditionally made with cream and thickened with egg whites (rather than gelatin) then baked in a bain marie with a caramel sauce. This is a laborious and somewhat tricky  process. You'll find it's much easier to make panna cotta with gelatin, which does not require baking, so the recipe is simple and quick.
To my taste, panna cotta should be silky smooth and just barely hold its shape, quivering on the plate (along with me quivering with anticipation) as it awaits the diner's spoon.  Panna cotta literally translates as "cooked cream", so don't expect a low fat dessert.  (A friend of mine in Piedmont, who for years ran a wonderful restaurant on Lake Orta, uses 100% cream in her ethereal panna cotta – my recipe will seem dietetic in comparison.)
Though rich, panna cotta should be a small serving, and is an exquisite little dessert when done right.  Too often, the panna cotta served in restaurants in Italy is rubbery or has separated, leaving a slimy film of gelatin on the bottom. 
Other than using the freshest ingredients, the key to silky smooth panna cotta lies in 2 simple steps:
1. Use just enough gelatin so that the panna cotta holds together- it won't be rubbery.
2. Cool the panna cotta over ice until it begins to gel.  This will keep it from separating.
In Italy, gelatin comes in sheets, so that is what I have used in my panna cotta recipe.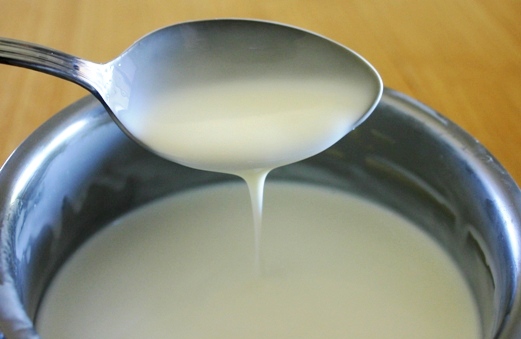 The finishing touch to panna cotta is the sauce, which should complement the delicate cream. 
Dessert Sauces for Panna Cotta:
Fruit:  A tart fruit sauce made with berries, or amarene (sour cherries) is an excellent contrast to creamy panna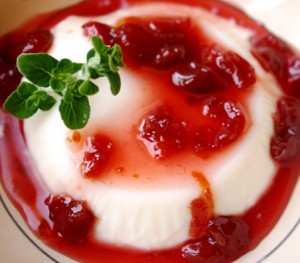 cotta. 
Chocolate: For those who simply cannot forgo dessert without chocolate, a dark chocolate sauce is a luscious accompaniment to panna cotta. 
Caramel:  A simple caramel sauce made from sugar and water is a good bitter-sweet complement to panna cotta. 
My recipe for panna cotta was adapted from one I learned on a walking & cooking tour in Umbria at La Palazzetta del Vescovo – grazie mille Paola!