I made the much touted Lemon Cake from the book, and found it to be light, delicate and moist.  The unusual step of pouring a kind of "lemonade" (lemon juice, sugar and water) mixture over the cake at several intervals, allowing it to absorb slowly into the cake, made this recipe unique.  Here is my version of Mamma Agata's Lemon Cake Recipe.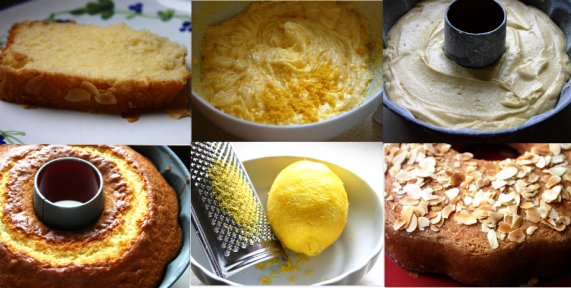 The premise behind the Mamma Agata cookbook is that cooking should be simple, and done with passion. Most of the recipes are quite simple, relying on quality ingredients rather than innovation, which is the key to Italian home-cooking.  Like most southern Italian cuisine there is a reliance on fresh tomatoes, eggplant, fresh herbs, lemons and plenty of good extra-virgin oil.
Equally important are tips on technique – dubbed Mamma Agata's "secrets" – that make a difference in the taste of a dish or final result.  These "secrets" also give one the sense that Mamma Agata is looking over your shoulder as you are cooking, making sure that you are doing things right.
The cookbook is based on recipes from Mamma Agata's cooking class on the Amalfi Coast, but it is also the story of a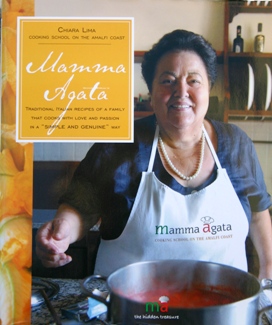 family's passion for their land and home.  Yes, it does happen to be in a fabulous spot on the chic Amalfi Coast, but it is also a home that has been in the family for generations and is still strongly rooted in tradition. In flipping through the full-color pages of  Mamma Agata's cookbook, it is hard not to succumb to the enthusiasm of the author Chiara Lima (Mamma Agata's daughter).  She is the type of person that writes an e-mail with sentences ending in 10 exclamation points, behavior that I find annoying in other people, but that is somehow endearing and genuine when it comes to Chiara.
Negatives:  The story of Mamma Agata and her experience as a young girl cooking for famous people was interesting, but got to be tiresome when repeated throughout the book, and some of the posed pictures with children and their very clean Mamma Agata aprons were just a tad too precious.   There are also a number of typos in the book and some recipes would benefit from being more concise.
Still, all in all the book is an obvious labor of love, and the color photos evoke the warmth and sunshine of the Amalfi Coast.  This made the book expensive to produce, resulting in a price tag of 35 euro (about $50 USD).  www.mammaagata.com