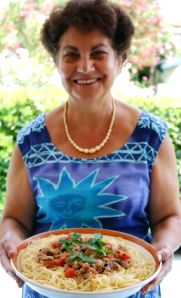 In a previous post, I wrote about how to preserve capers in salt. Now here is a recipe for pasta with capers and olives, and other nice things.
This is a quick and easy pasta recipe that uses items commonly found in an Italian pantry. You can vary it by adding tuna, which makes it a meal in itself.
This is an example of a dish you can put together at the last minute, in the fine Italian tradition of making something delicious with just a few ingredients. The key is to use quality ingredients, and don't skimp on the olive oil.
Just to prove our point, we dropped in on Lidia near lunchtime, and she rustled up this dish of pasta that sent us off on an afternoon nap.
Recipe type: Entree
Author: Anita Iaconangelo
Prep time: 5 mins
Cook time: 10 mins
Total time: 15 mins
Serves: 4-6 People
Ingredients:
1 clove of garlic cut into thin slivers
A small peroncino
4TB extra virgin olive oil
6-8 green olives pitted and sliced
1 heaping tsp of capers, packed in salt & rinsed
1 8oz. can Italian peeled plum tomatoes, crushed (or use fresh tomatoes)
1 TB flat-leaf parsley, roughly chopped
1 lb spaghettini or spaghetti (I use DeCecco)
Fresh basil leaves
Canned tuna (packed in oil)
Cooking Directions:
Lightly sauté the garlic in the oil, and, for a piccante kick, add the peperoncino.
Add the olives and rinsed capers and cook over medium heat for 2 minutes.
(Optional variation: Add the well-drained tuna, breaking it into pieces with a fork.)
Add the peeled tomatoes and mash with a fork.
Cook the sauce for 10 minutes over medium heat.
Sprinkle in the parsley.
Cook the spaghetti until it is al dente, then toss with the sauce until it is thoroughly coated. Add a few torn basil leaves to each serving.
Read More:
More Recipes Direct from Italy