We love the warm welcome and comfortable rooms at the Masseria Iazzo Scagno,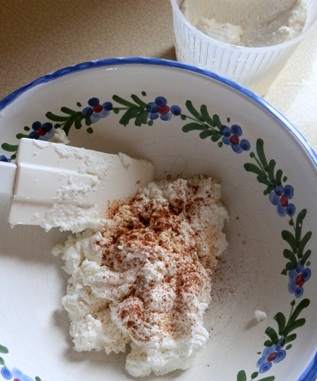 a working farm where we stay on part of our Pleasures of Puglia culinary tour. The hardest thing about staying here is tearing yourself away from the breakfast table, where owner Anna Colucci brings out dish after dish of savory and sweet delights, until you groan that you can eat no more. Then she brings out a bowl of exquisitely fresh fruit from their farm, like sweet juicy plums piled in a bowl of ice.
We had packed up after a wonderful 3-day stay exploring this area of Puglia, and were about to leave, when Anna rushed out of the kitchen with this pear and ricotta crostata. "I can't let you leave without tasting this," she said. We sat back down and soon moans of pleasure were emanating from our table, and everyone wanted the recipe.
Anna rattled off the ingredients while I scribbled madly on the back of a napkin. Months later, the napkin surfaced among my files, and I made this crostata – a baked fruit tart – and it got raves from the Sicilian relatives. Even though I secretly thought that Anna's was even better, this is a close second, and the one to eat when you can't make it to Puglia.
Here is my adaptation of Anna's Pear and Ricotta Crostata from Puglia: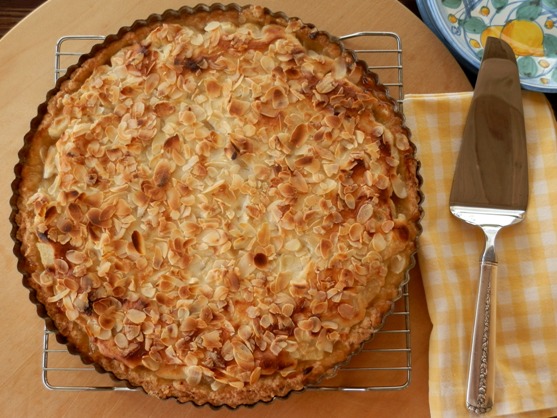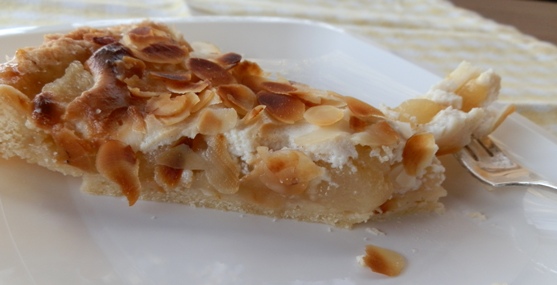 Anna's Pear and Ricotta Crostata from Puglia
Ingredients
CRUST:

 

(Makes two 10″ (22) cm crostata or tart crusts)

300 grams (2 1/3 cups or 10.7 oz) 

flour

150 grams (5 oz.) 

butter

100 grams (1/2 cup or 3.5 oz.) 

sugar

Grated zest of 1 

lemon

1

 

egg

FILLING:

 

For 1 crostata or tart

1 kg. (2.2 lbs.)

 

pears – peeled, cored and cut into chunks

50 grams (1/4 cup) 

sugar

2 TB 

lemon juice

TOPPING:

 

For 1 crostata or tart

280 grams (10 oz.)

 

fresh ricotta, well drained

30 grams (3 TB) 

sugar

½ tsp 

vanilla extract

Pinch of cinnamon

 

of cinnamon

40 grams (1 ½ oz) 

slivered almonds
Cooking Directions
Preparation:
Mix together the sugar, flour, and lemon zest for the crust.
Cut in the butter until it forms bits about the size of peas in the flour mixture.
Add the egg, mix and knead briefly.
Cover in plastic wrap and refrigerate for at least 30 minutes.
Preheat the oven to 190° C (375° F).
In the meantime, prepare the pears and mix them with the sugar and lemon juice.
In a separate bowl, mix the ricotta with the sugar, vanilla, and cinnamon and keep in fridge.
Roll out the dough on a floured board – you will actually have enoughd dough for two 10" (22.5 cm) tarts, but the filling recipe is for one tart.
Place dough in tart pan, cutting away any excess over 1/2 inch (1 cm) and fold over edges towards the inside and press against sides,
Extra dough can be kneaded together, wrapped in plastic and kept in fridge up to 3 days, or frozen (I like to roll it out and place in a tart pan before freezing.)
Fill the tart pan with the pear mixture.
Spread the ricotta mixture over the top of the pears.
Sprinkle the slivered almonds over the top.
Bake for 30-40 minutes at 190° C (375° F), until pears are tender and crust is crisp.
We ate ours warm at breakfast, but it is good any time of day at any temperature!