Every once in a while Emanuele returns home from the market with a particularly happy smile, and I know he has found something unusual to eat. On one of these occasions he handed me a brown paper bag, and said "I used to eat these as a child in Ragusa."  I open the bag and the air is immediately suffused with peach perfume. I reach in and pull out a fuzzy pink disk, that resembles a squashed peach.  "La pesca tabacchiera", says Emanuele triumphantly, a snuffbox peach (so named for its shape.)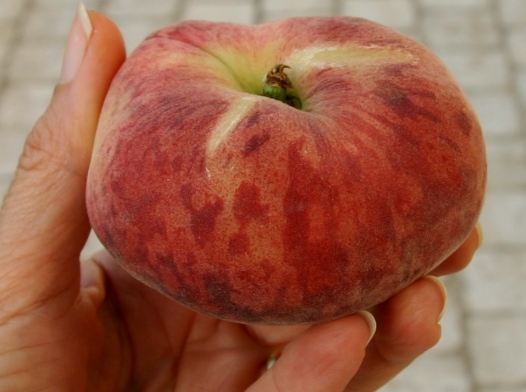 Grown on the slopes of the Mt Etna volcano since the early 1800's, the snuffbox peach has found its perfect habitat in rich volcanic soil, plenty of sun and cool nights.  Since this peach does not keep for long and its odd size means it does not fit into conventional peach shipping cases, it is generally consumed locally during a very short season.  Beware, that there are "imitation" snuffbox peaches, that are a result of crossbreeding, and are now grown in other areas of Italy such as the Marche, or in Spain and the United States, going by the name of the UFO, Saturn peach or doughnut peach, and they have managed to lengthen the growing season.  As good as these can be, I like to stick with the original, that seems to gain that extra something from the volcanic soil, and gorge on it during its short but spectacular season.
The thin skin of the pesca tabacchiera slips off easily, revealing white flesh edged in dark pink and slick with sweet juice, with a lovely scent of peaches and roses. It has a tiny pit, making nearly the entire fruit edible.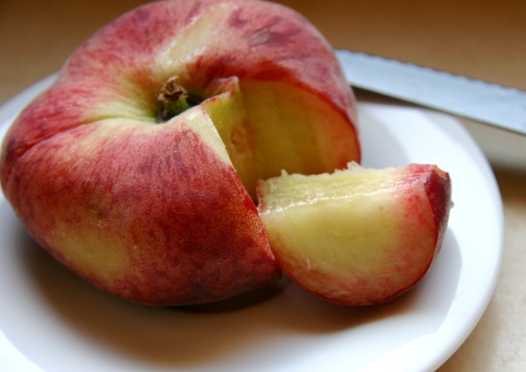 It's extremely difficult to eat a snuffbox peach in a civilized manner, as it seems to invite one to take a huge bite, and then things get sloppy. Your face gets smeared with peach juice, it drips from your chin, your hands get soaked, and as you stuffthe last bit into your mouth, you can feel a dribble of sticky syrup trickling down to your elbow.
I've found the best place to eat a pesca tabacchiera is over the sink, where you can slurp and drip in messy ecstasy, then conveniently and thoroughly rinse yourself off.  Then repeat the process.  After all, the season is a short one.
Read more:
Mt Etna on Sicily Walking Tour