'Mpanatigghi biscuits are a specialty of the town of Modica in Sicily, and have a long history, as they were first brought to Sicily during the Spanish rule in the 16th century.  In fact, the Sicilian dialect name 'Mpanatigghi derives from the Spanish word empanada.
If you are wondering how to pronounce this strange word in Sicilian, imagine that you have stuffed your mouth with empanadas, and someone asks you what you are eating – your reply will be remarkably close to the correct pronunciation for 'Mpanatigghi. Both the Sicilian and Spanish words come from the verb meaning "to wrap or cover with bread dough."
'Mpanatigghi are little half-moon shaped biscuits (or cookies) with a thin crust, that are stuffed with a mixture of sugar, chocolate, almonds, lemon peel, egg, cinnamon and vanilla, plus a secret ingredient that is impossible to detect – minced beef!  If anything could be more unusual, these biscuits originally contained wild game.  In case you are breathing a sigh of relief that you are vegetarian, there is also another version that substitutes the meat with eggplant.
If these sound revolting, it is best to try them without knowing what you are eating, and in my experience everyone loves them- it's only after being told what's inside that people turn up their noses. It says something about food prejudices, no?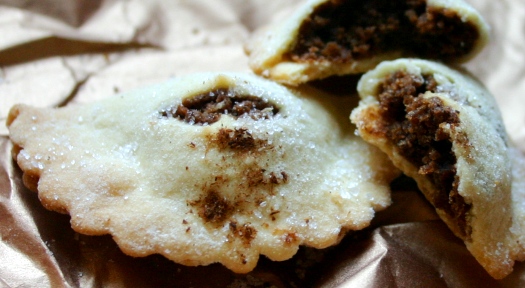 One of the best places to sample 'Mpanatigghi is the historic Bonjauto Chocolate Shop, in Modica.  This is a favorite stop on our eastern Sicily walking and cooking tour where we taste lots of different chocolate items.  And just for comparison, I recently tried the 'Mpanatigghi from Casalindolci, which is convenient if you are staying at the Hotel Palazzo Failla, and was impressed with the thin crisp dough and the fragrant stuffing.  Tip: Because non-Sicilians find this sweet to be  unpronounceable, 'Mpanatigghi are usually ordered by pointing at them.
Read more about culture, traditions and regional foods in Italy: