A semifreddo is a molded frozen dessert that remains fairly soft, and is similar to an ice cream though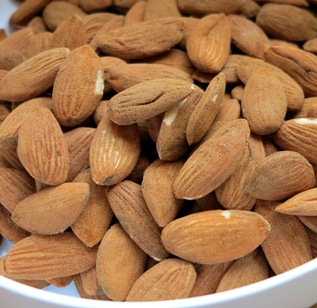 is made without  an ice cream maker.  You can make it in various flavors, but one of the most popular kinds of semifreddo in Sicily is made with almonds.
Our almonds from the Val di Noto in eastern Sicily are full of flavor, so I don't add almond extract when I make this.  If you are using California almonds, they have less oil and therefore less taste, so a bit of almond extract will perk up the flavor.
When the local grocer here in Frigintini (near Modica) began to stock delicious full-flavored almonds produced locally,  I decided to make a creamy semifreddo alle mandorle for our Savoring Sicily culinary tour lunch.  It turned out well, though I admit the hardest part was waiting the 24 hours for it to freeze – I was aching to taste it sooner, but restrained myself.
This recipe for almond semifreddo has a first step of caramelizing the almonds, which adds a bit of extra crunch that contrasts nicely with the dessert's creaminess.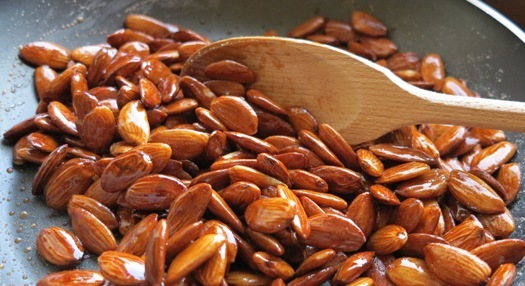 Make sure the egg whites and cream are whipped well (and separately!) and then folded together.  The ground almonds are folded in last.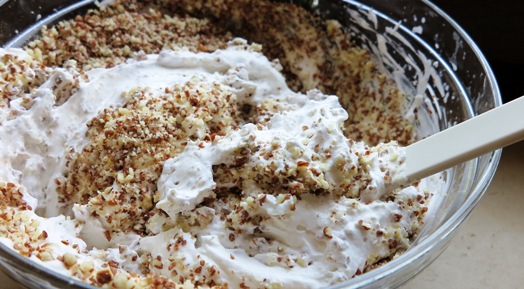 I used a long narrow bread loaf pan as the mold, and once frozen, it slipped out of  its mold quite easily.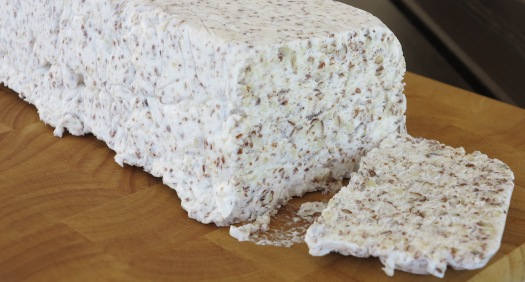 While you can eat this "as is", you may want to serve it with a dessert sauce,  for both the taste and the visual impact.
I tried two simple dessert sauces.
The first one was pureed peach: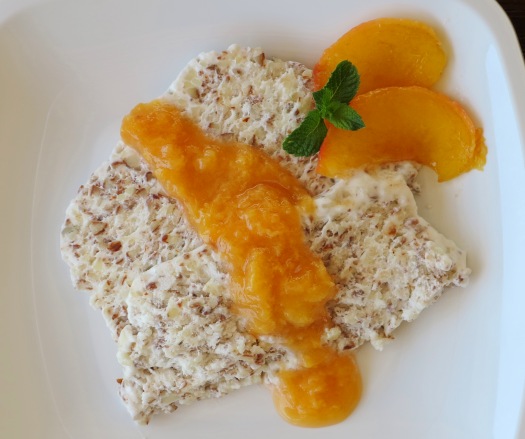 The second was a very dark chocolate sauce: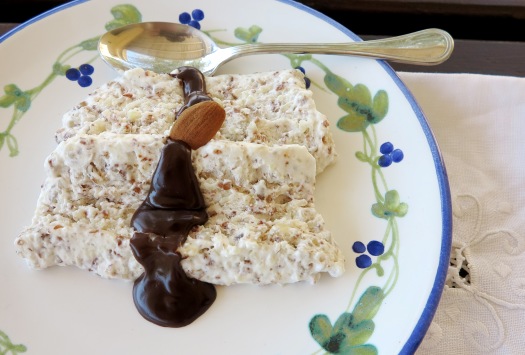 I ate, and liked, both.
Here's my recipe for semifreddo alle mandorle, almond semifreddo direct from Sicily:
Semifreddo alle Mandorle – Sicilian Almond Semifreddo
Ingredients
¼ cup + 2 TB (75 grams) 

sugar

¾ cup (150 grams) 

sugar

2 ¼ cups (285 grams) 

unpeeled almonds

2 TB (15 grams) 

confectioners sugar

1 cup (250 ml)

 

whipping cream

1

 

pinch ground cinnamon

¼ tsp

 

vanilla extract

3

 

large eggs, separated

Almond extract

 

(optional)
Cooking Directions
Place the almonds in a bowl, cover with water, and let soak for 10 minutes.
Drain the almonds and put them in a nonstick pan along with ¼ cup + 2 TB (75 grams) sugar.
Heat over a medium high flame, stirring with a wooden spoon, until almonds are coated with caramel.
Be careful not to burn (the almonds and yourself – caramel is hot stuff!)
Pour the almond mixture onto a piece of parchment paper placed on a cookie sheet or cutting board, spread evenly with the wooden spoon, and let cool to room temperature.
Line a large loaf pan with plastic wrap and set aside.
Separate the eggs – you will be using just the whites – and save the yolks for another use (I feed them to my cats…they love them!)
Place the cooled almond mixture in a food processor and grind until fairly fine but not powdery.
Beat the cream on high speed, and when it is partially whipped add the confectioner's sugar, cinnamon, vanilla, and optional almond extract (use almond extract if your almonds are not flavorful, which is often the case with almonds from California. Don't overdo it- about ¼ tsp should be sufficient. )
Our Sicilian almonds from the Val di Noto are full of flavor, so I didn't add any almond extract.
Continue beating the cream until it is thick and forms stiff peaks.
With clean, dry beaters, whip the egg whites on high speed, gradually adding the ¾ cup (150 grams) of sugar.
Beat until glossy and the egg whites form stiff peaks.
Carefully fold the egg whites into the whipped cream.
Fold the ground almonds into the egg white-cream mixture.
Scrape into the lined loaf pan, and place in freezer.
Freeze for 24 hours (or longer – you can keep this in the freezer for a month, but I am sure you will eat it sooner.)
To serve, unmold the semifreddo and slice.
Place one or two slices on a dessert plate and serve with a spoon.
Optional:
Top the semifreddo serving with a dessert sauce – I recommend a dark chocolate sauce or a fresh peach sauce .
Chocolate sauce: Melt very dark chocolate in a saucepan with a couple of tablespoons of milk, stir well and serve warm.
Peach Sauce: Puree a couple of peeled peaches with a TB of sugar; spoon over semifreddo and garnish with a couple of peach slices and a sprig of mint.
Read more:
Savoring Sicily Culinary Tour
Making Almond Milk in Sicily
Grissini from our Piedmont Walking Tour