Save $100 per person and enjoy a complimentary Rome airport transfer on Italian Connection's walking & cooking tour in Umbria,  June 8-14, 2010.
New for 2010, this walking & cooking in Umbria tour includes a stay at the top-rated Palazzetta del Vescovo, a lovely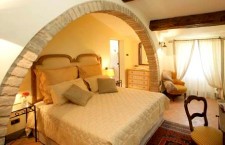 country inn near the hill town of Todi.  You'll be welcomed by the owners, Stefano and Paola, whose warm hospitality will make you feel immediately at home.  Plus, Paola is a great cook and Stefano is a sommelier, so we'll learn all about the culinary delights of Umbria, too.  Join in a cooking lesson in the kitchen with Paola and learn about Umbria's fine wines with Stefano in between glorious countryside walks and visits to Umbria's magnificent hill towns.
Discount offer is valid for just 2 couples, so call 1-800-462-7911 today.
Click for a complete day-to-day itinerary.
Get in the mood for cooking in Umbria with a farro soup recipe.