Many people only know Marsala wine as one of the main ingredients in Veal Marsala, and often the Marsala used in this recipe was a ghastly product labeled "cooking wine", a salty concoction that ought to be outlawed. If a wine is not good to drink, then don't cook with it!
Delve into the history of Marsala wine and you'll discover much more than a popular veal dish. This wine is produced in the region surrounding the lovely town of Marsala in western Sicily, and was developed by a welathy British merchant, John Woodhouse  in the late 1700s as a wine that could withstand long sea voyages. Brandy was added to make it seaworthy and resistant to changes in temperature, and it became a big hit with the British, who invested in the local agriculture and joined Woodhouse in opening other Marsala firms.  
In 1832 the first Italian Marsala producer, Vincenzo Florio,  entered the business and built an impressive winery. You can visit Florio's historic cellars in Marsala – a stopover for many luminaries including Benito Mussolini – and enjoy a tasting of several vintages and types of Marsala. We visit the Cantine Florio on our tours in western Sicily and it is an enjoyable experience, though be forewarned that you can occasionally be engulfed by swarms of small school children on a field trip. They even pack the enoteca wine shop buying souvenir bottles of Marsala to take home to mamma. Oh, to be an 8-year old in Italy!
Today Marsala wine is classified depending upon its color, sweetness, and age, and with versions that are quite sweet all the way to very dry. The driest and most prized Marsala is classified as vergine. At Florio you can learn about interesting food pairings for Marsala wine – which to serve with sharp cheeses, walnuts, and sweet cakes – and yes, how to make a great veal Marsala. While I was in Marsala, I sampled a savory couscous with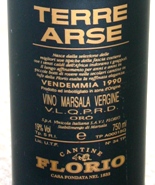 pistachios that was paired with a glass of semi-sweet Marsala, and found the combination intriguingly delicious.
I brought home a bottle of Florios' vergine Marsala with the rather amusing name of Terre Arse, a bit of a marketing blunder if the target is the British market, since "arse" is a slang word for "ass". In this case, Arse in Italian is a feminine plural adjective that modifies the word Terre, and literally means burnt or arid, but I prefer to translate it as sun-baked, imagining the golden Marsala wine grapes ripening under the blazing Sicilian sun.