Over the centuries, Papal patrons have commissioned renowned works for the Vatican, such as the magnificent
frescoes by Michelangelo in the Sistine Chapel and those by Raphael in the papal reception rooms. The Vatican Museums also contain some of the most important sculptures from the ancient world. It can be difficult to appreciate the Vatican Museums in the midst of often oppressive crowds, but now you can have this astounding collection to yourself for two hours during special after-hours visits.
Italian Connection together with our partner Context Rome, is offering two after-hours tours of the Vatican museums with a specialized guide, giving visitors the opportunity to see these important works as they were originally viewed by the Popes who created the museums.
Our tour of the Vatican Museums will be available to just twenty-five people, who will then be organized into 5-person mini-groups, each with a docent guide.  In other words, you'll visit the Vatican Museums in a group of no more than 5 people, with your own specialized guide.
Our visit will begin with a 20-minute introduction outside the museums and then two hours inside the museums. We will spend a significant amount of time (35-40 minutes) inside the Sistine Chapel and divide the rest of our tour in the Gallery of Maps, Tapestry Gallery, and Raphael Rooms, including other collections as time and security permits  Please note that not all galleries will be accessible to us during this after-hours visit.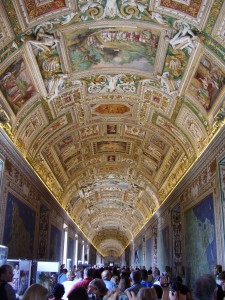 Note: Though this is an after-hours visit, there may be a small number of other groups in the Vatican museums at the same time. However, the number of people in the Vatican museums after-hours is minimal compared to the crowds during regular hours. (Over 4 million people annually visit the Vatican Museums.)
Details: Vatican after-hours tour available on May 10 & June 16, 2010.
Tour is 2 ½ hours long and cost is 280 euro per person, including entrance ticket and docent guide services.  Not suitable for young children.
There are only a few spaces available for these after-hours tours to the Vatican.
Call Italian Connection to book: 1-800-462-7911