Highlights of our small group People-to-People Tour of western Cuba
Tour colorful Havana with a local guide, and sip a refreshing daiquiri in Hemingway's favorite bar
Learn the basic salsa moves with an experienced teacher, and never pass up a dance again
Meet a Cuban writer who discusses the political implications of a controlled press in today's Cuba, with the opportunity to ask questions in a people-to-people tour forum
See how a talented Cuban artist supports a local daycare center and meet the street kids who learn to sing and dance at a community cultural center
Taste the best of Cuban cuisine as you experience the Cuban culinary revival at local paladars
 It's the best way for US citizens to legally travel to Cuba, and all nationalities are welcome!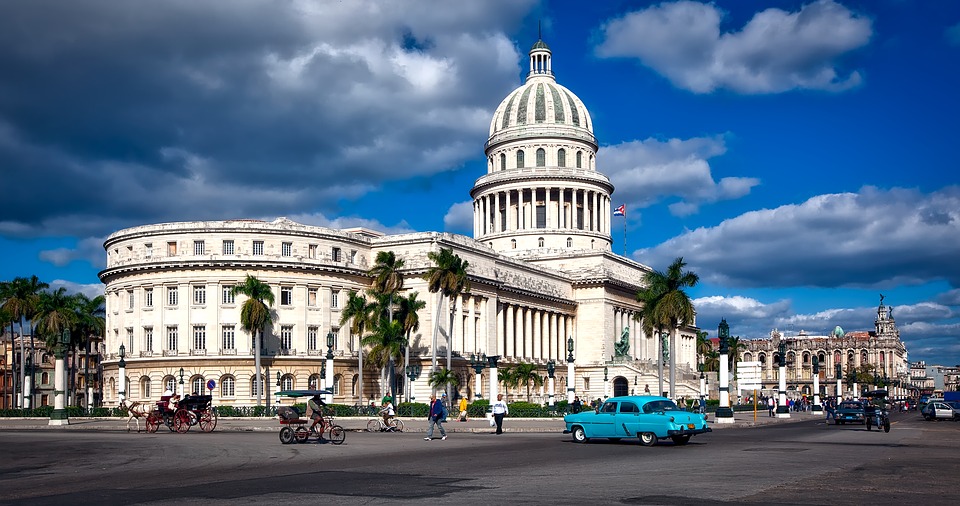 Day-By-Day Itinerary:
Day One: Individual arrivals at Havana airport.  Transfer included to our hotel (4 nts.) Meet your Cuban guide and Italian Connection tour leader, followed by a welcome dinner.
Day Two: A walking tour with our Cuban guide will introduce you to the sights of Havana, with a stop for a refreshing daiquiri in Hemingway's favorite bar, La Floridita.  In the afternoon, put on your dancing shoes as we learn to salsa with Havana's coolest teachers.
Day Three: We head out of the city to the lush countryside at Las Terrazas, a pristine biosphere with traces of its history, today a rural community with a sustainable lifestyle. Take a short walk in the forest to spot the Cuban trogon, the national bird whose resplendent feathers mirror the colors of the Cuban flag. Meet the artist-in-residence in his lakeside studio before we enjoy a lunch of Cuban Creole specialties. Return to Havana and choose to dine in one of the city's paladars, privately-run restaurants that are the vanguard of Havana's culinary scene.
Day Four: Learn about Cuba's educational system during a school visit, and explore the fascinating streets of Habana Vieja.  Meet a contemporary writer who defies the restrictions on free press as she exposes Cuba's present day problems, and discuss the political implications of her writing during a question and answer session, a highlight of our people-to people tour. Tonight we indulge in a delicious meal of fresh fish and artfully combined spices at a lively paladar.
Day Five: An early departure from Havana has us heading to the lovely Playa Giron cove, where the failed Bay of Pigs invasion took place. Visit the nearby museum with powerful photos of Fidel Castro and the resistance movement.  Enjoy a short performance at a community center that helps young people find a direction in life through art, dance, and music.  Continue to the charming city of Cienfuegos, where we spend one night.
Day Six: After an orientation walk in the center of Cienfuegos, there is time to browse the handicraft market and admire the flower sellers' stalls on the street corners.  Continue to Trinidad, where we stay 2 nights in family guesthouses, and immerse ourselves in Cuban culture.  After a short guided walk, you are free to scout out locales with live music, visit an artist's studio, or just soak up the atmosphere of this colorful town.  Tonight we dine in the town's best restaurant located in a former home, where a bed still sits in the middle of the dining room!
Day Seven: This morning we take a walk through quiet woodlands to a lovely waterfall, where the daring may take a swim in the refreshing cool water.  Meet a campesino, who lives in a simple wooden house and invites us to taste his herb tea made from wild plants that he harvests in the forest.  After a sumptuous buffet lunch, we'll return to Trinidad for some free time, before heading to the beach for a sunset mojito.  Tonight's dinner highlight is fresh grilled lobster, the house specialty.
Day Eight: We head to the provincial city of Santa Clara, where we visit a cigar factory, where Cuba's finest tobacco is hand-rolled into the world's most sought-after cigars.  Time to learn about the various brands with a cigar sommelier, before we head to the main park and check out what all the locals are up to.  Continue to Havana, for our last night in Cuba.  A special dinner and entertainment await us as we celebrate our in depth tour of western Cuba.
Day Nine: We can arrange taxis to the airport for return flights from Havana.
Price$3780 USD:  Includes: 8 nights accommodation in double occupancy 3-star hotels and guesthouses, daily cooked-to-order Cuban breakfast, 6 lunches, 6 dinners, services of bilingual Cuban guide and Italian Connection tour leader throughout the tour, private transportation by small bus, entrance fees to included sites, city tours, arrival transfer.  Based on a minimum of 6 and maximum of 12 participants.
Email: [email protected]  to reserve your place on this small group people-to-people tour of Cuba.  It's the best way for US citizens to legally travel to Cuba, and all nationalities are welcome!
Read more about this cultural and culinary tour to Cuba.
See all our warm winter tours.