I am not generally a morning person.
But one thing that will get me out of bed in a flash is the prospect of a great breakfast.
For the best hotel breakfast with a view in Italy, my vote goes to the Grand Hotel Timeo in Taormina, Sicily. Sitting out on the expansive terrace, below is the sea and the lush gardens of citrus trees and bougainvilla, while the backdrop against the sky is the magnificent Mt Etna volcano, puffing like a steam train.  This is the same magnificent view the ancient Greeks enjoyed from their theatre (which is just behind the hotel).  The breakfast buffet features Sicilian specialties such as granita and brioche – a typical summer breakfast in Sicily – or refreshing almond milk, all fit for a Greek god.  It personally like to start with a plateful of tiny flaky pastries, and sip a cappuccino in the  captivating presence of Mt. Etna.  Join us here on our Splendors of Sicily walking tour.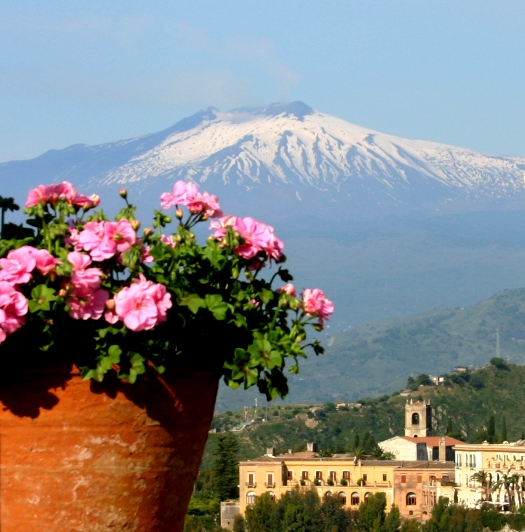 In northern Italy, the Hotel Rosa Alpina in the town of San Cassiano in the Dolomites is my favorite place for the best classic hotel breakfast in Italy.  The moment you walk into the airy room overlooking the mountains you are enveloped in the yeasty buttery scents that are the essence of breakfast.  The first thing you physically encounter is a table laden with huge variety of homemade bread warm from the oven – I'm always tempted to just pull up a chair right there and do a high carb feast. 
But then I spy a fellow in a chef's hat  ready to cook eggs to order, and I watch as he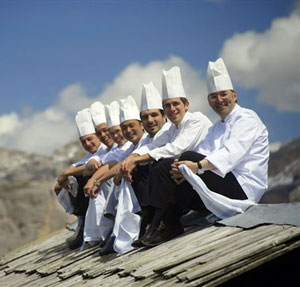 drops a big lump of butter into a sizzling copper pan.  The eggs have dark orange yolks and wow, they really taste of eggs.
All the Rosa Alpina's breakfast ingredients are top notch and much is locally sourced – sweet butter from high alpine farms, jams thick with tart berries, huge bowls of creamy yogurt, fresh squeezed juices, perfectly ripe fruit, paper-thin slices of smoky speck, and hunks of local cheeses.  There's a selection of cereal for the fiber-fiends, hot chocolate for the decadent, and good coffee made just the way you want.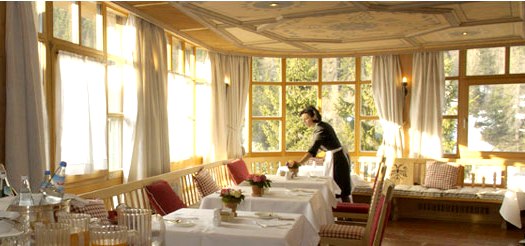 The serving staff is friendly without being intrusive, and after your first breakfast, will remember your preferences the next day.  "Will you be having your regular cappuccino (or herb tea or espresso doppio?)"  the waitress will ask, as if you've been having breakfast there for years.  Tablecloths are pristine linen and seats have comfy cushions, inviting a long leisurely breakfast.    It's a great way to start the day before a beautiful hike on our Wildflowers in the Dolomites walking tour.