During summer in Sicily a traditional beverage is latte di mandorla – almond milk – and visitors wilting in the heat will often be offered a chilled glass of this refreshing drink. Once upon a time, almond milk was commonly made at home in Sicily, but nowadays, most people drink the commercially available stuff bought in the supermarket. Instead of being refreshing, I find it to be cloying sweet. So, I set out to make my own.
I had scored a kilo of beautiful pizzuta almonds from the San Basilio farm during the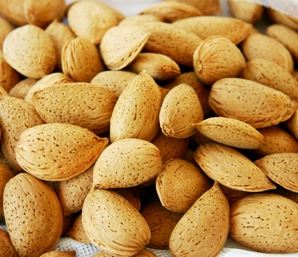 almond harvest, and so I began quizzing the natives about the best way to make almond milk. Asking for culinary advice is always a dangerous proposition in Sicily, as it inevitably leads to an overload of information, often conflicting. Just when I may have settled on a method, another person will look at me in surprise and explain an incredibly simple way of doing the same thing, that they claim is buonissimo. So, first I needed to sift through all the almond milk info.
Everyone did agree that the almonds had to be shelled, which I had taken for granted. Next, should they be blanched in order to remove the brown skins? The "yes" crowd said the skins would make the almond milk bitter, the "no" crowd claimed the skins added flavor and color. I wondered if the no crowd could simply be lazy?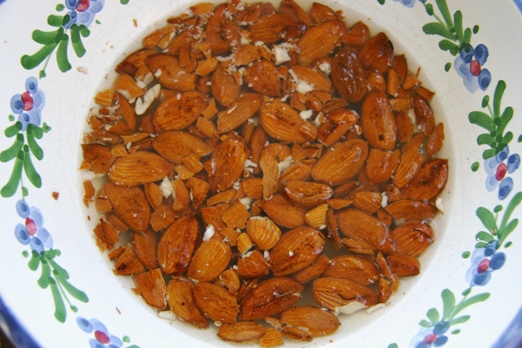 Everyone also agreed that the almonds needed to be finely chopped, though methods differed. A food processor was okay with some (see lazy crowd above), others said the heat generated by the blades would affect the taste, and that the almonds must be finely chopped with a mezzaluna. My friend Giovanni said they should be slowly pounded to a paste with a mortar and pestle, gradually adding water. He claims he learned this when he had to make emulsions while studying to be a pharmacist at the University of Catania. Meanwhile, my trusty neighbor Beatrice said she just tied the unpeeled almonds in a cloth sack and beat the whole thing with a wooden mallet. As the path to almond milk became ever baffling, this at least seemed like a great way to release my frustration.
Everyone soaked the ground almonds in water, except for Beatrice-of–the-Mallet, who just dipped the sack in water periodically, until the water became "milky." The soakers put the almond mass into a fine cloth and squeezed out the almond milk. Some added sugar, others honey. One left it plain, but admitted to being on a diet. Time to move on I told myself, before I just decide to make almond biscotti.
First, I had to shell the almonds, and these being pizzuta almonds with amazingly thick hard shells, a regular nutcracker was useless. It was time to use 'The Rock', a 5 lb. stone that I use for crushing olives, and occasionally, my fingers.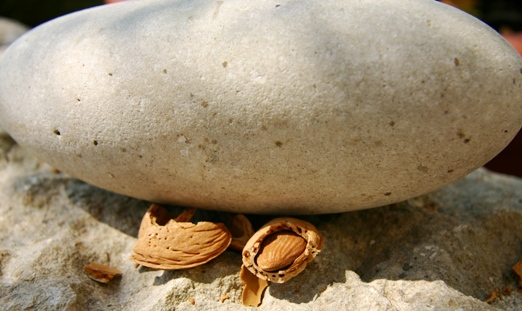 At first, I had a tendency to hit too hard and crush the almond to smithereens along with the shell, but soon I got skilled at giving one sharp whack that splits the shell, yet leaves the almond intact. By the time I'm done, I've got a sore arm and one bulging bicep.
Next, because I don't fancy the idea of brown bitter milk, I decided to remove the skins.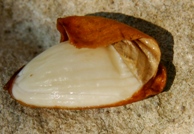 I poured boiling water over the almonds, and let them sit for 30 minutes, while I rested my arm. Then by squeezing each almond between thumb and index finger, the skins slipped off quite easily. There are always a few recalcitrant ones that hold tight to their skins – I used the zero tolerance approach to these and just ate them.
By the time I am done with this, I am intimately familiar with each and every almond and am beginning to understand why everyone buys almond milk at the supermarket. (You could skip this whole process if you simply buy blanched almonds, but depending upon their age, they may be fairly tasteless, and you won't become close personal friends with your almonds.)
Now, it was finally time to chop or grind the almonds. I tried the mortar and pestle method, and it took just 30 seconds to flunk out of pharmacy school, as with each move of the pestle, the slippery almonds flew out of the mortar and went skidding across the kitchen floor.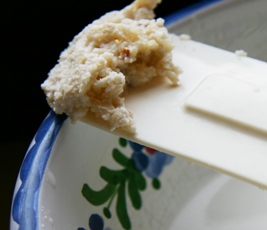 By now I was hot and tired, and longed for a glass of cold almond milk to perk me up. Time to skip tradition and revert to modern times with a food processor (you could probably use a blender, but I don't own one.) I ground the almonds in batches, pulsing and adding a bit of water until the mixture was fairly fine, then dumped the mixture into a bowl. I added some mineral water, and let it soak while I rested in front of the fan.
Finally, I poured the contents of the bowl into a cloth-lined strainer, over another clean bowl. Then with my last bit of strength, I squeezed the cloth of ground almond paste to extract all the liquids. Wow! Out poured almond milk!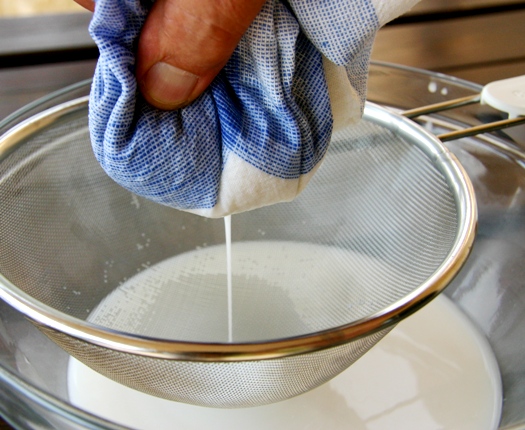 I refrigerated the almond milk and had a nap. Once it was cold, I slightly sweetened it with sugar – this seemed to enhance the almond flavor – and added a little more mineral water. Sitting in the shade, it made a refreshing silky drink with a surprisingly tangy almond finish. In the end, worth all the effort.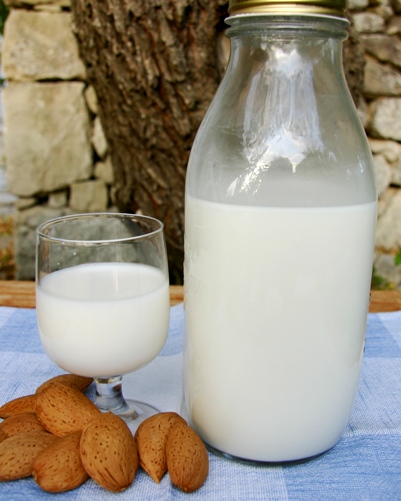 Read Similar Stories:
Recipe type: Beverage
Author: Anita Iaconangelo
Prep time: 1 Hour
Cook time: No cooking
Total time: 2 hours, including chilling
Serves: 8 three-ounce servings
Nutrition:
Serving size: 3 oz
Ingredients:
4 oz almonds
Cooking Directions:
Pour boiling water over the almonds to cover, let sit for 15-30 minutes, then squeeze each almond individually so that it slips out of its brown skin. (You can also just buy blanched almonds and skip the shelling and skinning.)
Place almonds in food processor and pulse in order to finely grind, adding a bit of water to make a thick chunky paste.
Transfer the almond paste to a bowl, add about 2 cups (16 oz.) of mineral water, and let soak for 30 minutes.
Dampen a square piece of fine linen or cotton cloth and place it in a sieve over another clean bowl.
Pour the contents of the almond paste bowl into the cloth lined sieve.
Let the liquid (which should be milky looking) drain into the clean bowl.
Gather the corners of the cloth together, twist them tightly and squeeze the almond paste so that the liquid also goes into the clean bowl – do this until you have squeezed out all liquid humanly possible from the almond paste, and are perspiring heavily.
Next, fill a measuring cup with about ½ cup of water, and place the bag of almond paste in it, dip it and up and down, then push it down into the water several times to extract more milky liquid, then add the liquid to the bowl of almond milk and squeeze the bag again – do this 3 times or until the water is no longer very milky, and you are feeling weak.
Assuming you have enough strength left, place a funnel in a bottle or pitcher and pour the contents of the almond milk into the funnel.
Taste the almond milk!
It will be quite bland without any sugar, but should have a nice almondy finish.
Sweeten to taste if you like, with either honey or sugar.
If it seems okay as is, refrigerate; if too strong, add a bit more water.
Shake or stir before pouring into glass, and serve well chilled.
Makes about 8 servings of 3 oz each.