Dawn in the garden with a huge moon hanging in the sky, wet grass cool under my feet. I feel like I'm the only person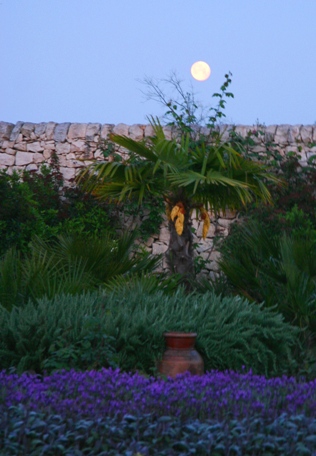 awake in the world. The day, like the garden, feels full of promise. In other words, it's before I check my e-mail. 
A soft night rain has been kind to the garden, which is drinking in the wetness, grateful for this last bit of refreshment before the hot summer sets in.  A few perfect roses are in bloom, with hundreds of buds awaiting their moment to burst open, while the lavender and orange thyme are giddy with blossoms. 
Join me on a little tour of my garden in Sicily.  Put on your flip-flops and let your toes get wet in the grass.  Listen to the bees buzzing in the sage blossoms, and the birds chirping in the almond tree.  Actually they are making quite a racket, it's a serious bird argument and I'd wish they'd keep it down.  They are wrecking this peaceful mood.
Look around. An apricot is ripening. Fat figs sit on a branch soaking up the sun's first rays, carob pods dangle in the breeze, poppies nod sleepily in the morning sun, and even the palm tree is in flower. Little pears and plums are taking shape.  The succulents are pleasantly plump.  Notice the teeny tiny flowers on the olive tree, the capers stretching out their first dark leaves, the geraniums bursting from their pots.  Prick your finger on an artichoke. Ignore the weeds.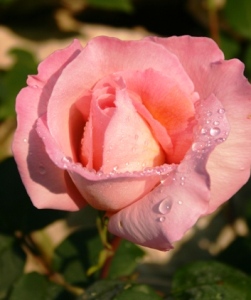 Pick a sprig of mint, a twig of rosemary and a laurel leaf and crush them in your hand, releasing a spicy perfume good enough to bottle.  Step on the creeping thyme as you walk beneath the arbor, and really take time to smell those roses.  Brush against the lemon verbena, sharp and pure against the scent of jasmine as thick and sweet as honey.  Pick a lemon wet with dew and breathe in the intoxicating fragrance of zagare – citrus blossoms that are the essence of Sicily in April.  Ouch, don't touch the nettles.
I drink a cappuccino sitting on the stoop. I want this garden to be my entire day, but have yet to win the lottery.  Slowly,  I turn my back on the garden, on the real world, and head to the virtual world of my computer. See you there.