On a drizzly cold March day in Tuscany, my good friend Nora Kravis phones to invite me to dinner. "Come early so you can see the kids. There are 23 of them," she says, and hangs up.   
Nora's house is notorious for being unbearably cold, so I dress for dinner in several layers of warm wooly clothing,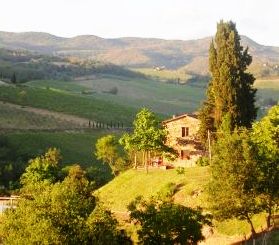 thick socks and sturdy boots.  I can see Nora's farmhouse, La Penisola,  from my front window – she is on the other side of the valley below Radda in Chianti – but driving there is like a slow roller coaster ride of steep ups and downs and twists and turns, dodging the odd wild boar or porcupine along the way, until at last I bump down a dirt road that ends at Nora's house. 
I walk into the kitchen without knocking, and am immediately blasted with thick warmth, and am overwhelmed with the smell of frying sausage and the panicky sensation that I have somehow accidentally walked into the wrong house.  "It's hot!" I shriek, and begin peeling off layers of clothing.  Just then a thin young redhead walks into the kitchen. 
She sticks out her hand and introduces herself as Alison, the new farm helper, and informs me that Nora is in the shower.  She tells me she answered an ad on a bulletin board in Florence, and dreamily recounts that she has always wanted to live on a farm. I shake her delicate hand, look into her innocent pale face and think: She won't last a month. 
A few minutes later, Nora strolls into the kitchen with dripping wet hair.  "How do you like my wood stove?" she asks with a grin.  "You can even cook on it and bake in it!"  She shows me all the features, opening and shutting the doors like a car salesman.  I agree that it is a fantastic piece of equipment.  "I can't believe it, you finally have a warm house," I say in amazement.   We have both suffered horrendous cold winters in old stone houses in the mythical paradise of Tuscany, and I am thrilled that after all these years, she's got heat that works.  
We chat as she dries her hair by flipping her head back and forth over the stove, stopping occasionally to stir the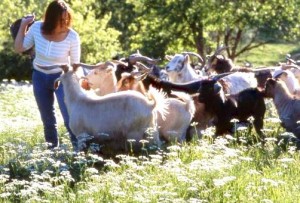 sausage in a big iron pan.  "I'm making pasta with sausage and broccoli, okay?"  "Sounds great," I reply while making a mental note to check for stray hairs in my dish.  Nora tosses the broccoli in the pan and it sizzles and steams as she stirs.  "This will take a few minutes to cook," she says.  "Let's take a walk while it's still light and see the kids – they're adorable."   She's looking out the window at the pastures when suddenly she cranes her neck and says, "Uh-oh, I've got a mama in trouble! Can you guys lend me a hand?"  
As if we have a choice, Alison and I pull on our coats, while Nora is already out the door, racing down the muddy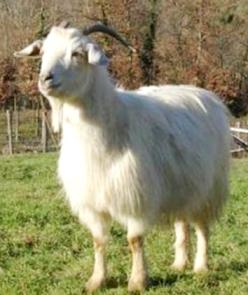 hillside, nearly disappearing in the gloom.  We run to catch up, and as I round a corner my boots sink into the soft orange mud and I grab a fence post, just barely managing to stay upright, as the less fortunate Alison slides past me on her stomach.  We stumble into a rudimentary paddock with a flimsy makeshift gate, and come face to face with a shaggy white goat with alarming horns.  She also sports an impressive beard.  "Okay" says Nora who has her arms spread wide in a semi-crouched position, "Don't let the goat get out," assuming as always that other people understand goats the way she does.  I am beginning to regret accepting this dinner invitation. 
Suddenly the goat makes a move to escape, and Nora lunges and tackles it, all the while barking orders to me and Alison. "Grab the horns, grab the horns!"  We really do try, but we appear to be in some danger of being gored, the goat is quick, and we slip and slide in a spectacular display of clumsiness, while Nora manages to get a rope around the goat's neck.   
Nora starts tugging the goat up the hill to the barn, while Alison and I try and catch our breath. Alison's got so much mud on her she looks like a terracotta sculpture.  I re-estimate that she'll last 2 weeks, tops.  "Welcome to farm life," I say trying to act nonchalant, as we follow Nora's footprints. 
Once inside the barn, Nora does a quick cursory examination palpitating the goat's underside, and then rummages around in her vet's bag, pulling out a bottle of liquid soap.  "The goat needs help right away," she announces and slathers soap up to her elbows.  So does Alison, I think, as I glance at her ashen face.  "Hold on tight to the goat's horns," she orders. We obey, taking up a stance on either side of the goat.
Nora shoves her hand up the goat's vagina, and the goat lets out a surprised yelp, completely understandable under the circumstances, I think.  "Keep her still!" Nora commands, and her arm now disappears inside the goat, her head rests on its hindquarters and she seems to be searching for something, like a set of lost keys.   Suddenly the goat bawls out in a long desperate wavering cry, -bleeeeee…eeeee..eeeeeeeeeeh,  its thick tongue sticking straight out, parallel to the ground. 
"Bleeeeeeeeeeeeeeeeeeeeeeeeeeeeeeeeeh!" the goat wails, only louder this time. I am amazed at the length of the goat's tongue, as well as how long she can hold a note. "Bleeeeeeeeeeeeeeeeeeeeeeeeeeeeeeeeeh!" she repeats desperately.  I am getting rather unnerved and I glance at Alison, who is as white as a sheet and looks like she is ready to faint.  I wonder if she'll make it through the night.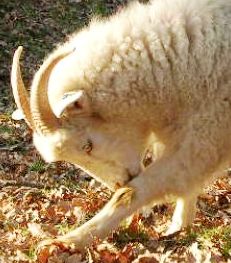 "Hold on!" I shout, and grip the horn as the goat surges forward, sending a searing pain through my shoulder.  "Would you just hold her still!"  Nora scolds in exasperation, as though we are slacking off.  "Just pull back on the horns if she tries to get away."
"Won't the horn come off?"asks Alison timidly. 
 "I don't think you're that strong" replies Nora sarcastically, and shoves her hand back into the goat. 
"Bleeeeeeeeeeh! Bleeeeeeeeeeh! Bleeeeeeeeeeh!"  The goat's cries are shorter now, though even more heart wrenching, as though she's running out of hope. The goat pants and paws the ground, as Nora rummages and grunts.  And just so we get her full repertoire, the goat lets out a series of terrified yelps, Blaaaah! Bleeh! Bliii…oooh …uuuh!"
I am about to ask if the goat is just practicing her vowels or should we be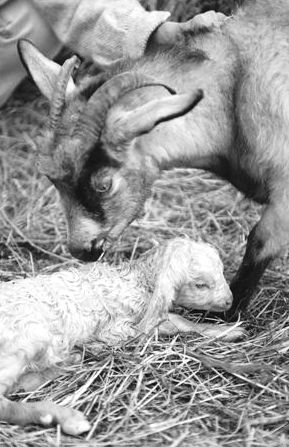 seriously worried when Nora suddenly jerks her arm down and there is a loud slurping sound. She stands triumphantly, holding up something long and gray, with a clear shiny coating.  It does not even remotely resemble a set of keys.  My stomach lurches, as though my own guts have been tugged out.
The mother goat's tongue retracts, and now quick panting replaces its wailing, which I personally prefer.  Alison is murmuring "oh my god oh my god oh my god," like a mantra.  "Is it dead?" she asks in a quavery voice.  Just then the slippery gray thing springs to life on wobbly legs, and prances in the straw.  Kid number 24. 
"There's another one inside," says Nora matter of factly. "Twins."  She gives the mother goat an injection, pats her on the back, and says, "She can do the rest herself," which is the best news I've heard all night.  "Let's go have dinner." 
 As we walk out of the barn, Nora asks, "Did anyone take the pasta sauce off the stove?"  There is a collective gasp before we race down the hill, laughing in the dark.
Details:  Just as Nora is no ordinary vet, these are not ordinary goats.  They are cashmere goats, and you can meet them and Nora at the Chianti Cashmere farm, 5 km from Radda in Chianti in Tuscany.  Birthing season is in the spring, usually through May.  On Nora's property there is a farmhouse for weekly rentals and a shop selling hand-woven cashmere shawls, yarns, and skincare products made from cashmere goat's milk. E-mail in advance for visits. www.chianticashmere.com