Two new fixed price lunch menus are now available at Ragusa's Il Duomo, the first restaurant in Sicily to be awarded two Michelin stars.  Discerning diners can taste the creations of chef Ciccio Sultano by choosing from a 45 euro menu and a 59 euro menu, both of which offer 3-courses featuring an antipasto, main course and dessert, along with several "mini-courses" that allow the diner to get an excellent sampling of  the restaurant's cuisine.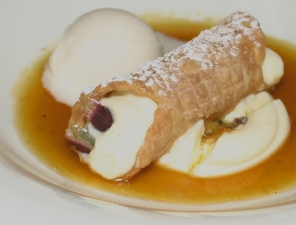 The 59-euro menu is truly all-inclusive, as wines are paired with the meal – all you have to do is sit down and eat…and drink.  There are no other charges, a welcome treat in these economic times.
As with all of Sultano's cooking, the fixed-price menus adhere to using locally-sourced ingredients, a trait I have always liked about Il Duomo.  Certainly there are advantages to being located in Sicily, where there is an enormous variety of fruits and vegetables, artisan cheeses and superb olive oil, as well as exquisitely fresh fish and traditionally farmed meats, whereas a Michelin restaurant in the Dolomites does not have such a food bounty close at hand.
Once you've gotten hooked on Il Duomo's fixed price lunches, you might take the plunge and splurge at dinner, with the 150 euro fixed price "Sequilla" menu with wine (that I thoroughly  enjoyed with a group of travelers last spring) or celebrate the holidays with a new 12-course festa menu at 170 euro with wines included.   Once again, there are no other charges.   Except for the taxi, when you can't manage to stagger back to your hotel on foot.
Il Duomo is located in the center of Ragusa Ibla, right near – you guessed it – the Duomo!  It is closed at lunch on Monday, and all day Sunday. You can make reservations through their website.
View our Trip that Dines at Il Duomo
Read Similar Stories: