Shortly after Emanuele's family came to visit us when we lived in Tuscany, I discovered that I was smack in the middle of the family's food trade route.
Emanuele's  sister from Sicily showed up at our house in Tuscany followed by her son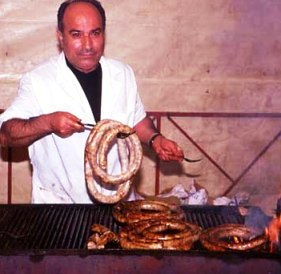 Mario, who was lugging her suitcases.  He was as stunned as I was when his mother Elisa opened up the first suitcase to proudly display an enormous quantity of sausage. "We almost missed our train connection for this!" said Mario, incredulous as he mopped his sweaty brow.   Elisa ignored him as she explained to me that these sausages were from Chiaramonte Gulfi, a town near Ragusa, that was known for making the best Ragusan style sausages, spiced with fennel and hot pepper, with the pork left in meaty chunks rather than being finely ground. The sausage is good enough to be honored during an annual food festival, the Sagra della Salsiccia.  Apparently Elisa had thought to transport the sausage festival to Tuscany, as she unfurled a kilometer of sausage and stuffed it in the fridge.
Then the second suitcase was unloaded, and out tumbled Sicilian tarocco oranges, a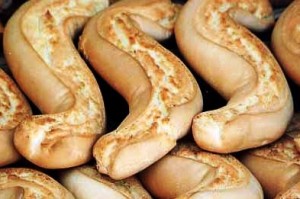 tart juicy variety that I love.  And bread.  "You brought bread?" I asked dumbstruck.   "Certo!" said Elisa.   "Tuscan bread is insipido", meaning flavorless, due to its lack of salt. The bread of Ragusa was hard as a rock-more like a weapon than bread- and noting the murderous gleam in Mario's eye, I scurried to find a safe place for it.
Then Nella, the sister who lived in Piedmont, showed up with huge hunks of gorgonzola – both the piccante and dolce versions- and the stink lingered in the kitchen for days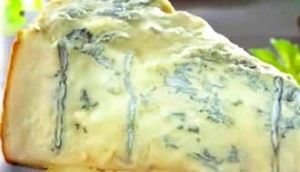 after everyone's  departure.  There was also a cloth sack containing 5 kilos of just-hulled carnaroli rice,  perfect for risotto.  As Nella rearranged the fridge to fit in the gorgonzola, she anxiously asked if we had procured the 20 liters of  Tuscan olive oil we had promised we'd get from a farmer. "Tranquillo", said Emanuele reassuringly, "I got 40 liters." 
Later, when we moved to Sicily, I thought that we were now out of the Sicily portion of the trade route.  But then I discovered that regional food specialties could be different in the next town, so when visiting relatives who lived 90 minutes away, the car was packed with food specialties.   
On one of these excursions, there was an unexpected food bonus.  Mario had brought his mother and her friend to the bus stop in Ragusa, where they were to catch the bus to Catania to stay with relatives.  As usual, Mario's job was to haul suitcases, little bags, big bags, paper bags and plastic bags, all loaded with food. He unloaded everything, kissed the two of them goodbye, and went home to nurse his backache. 
About 20 minutes later, he got a frantic phone call from his mother, calling from the bus as it sped down the highway.  She'd just realized that they'd left the bag of focaccia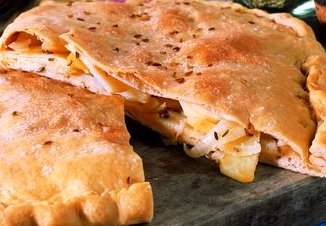 at the bus stop!  Mario zipped off in his car to find the bag still there, with a hungry looking fellow eyeing it hopefully.  When Mario lugged the bag home and looked inside, he realized there was enough focaccia to feed an army, so he called his friends and had a huge focaccia festa. 
We began with a solemn toast in honor of the deprived relatives in Catania, to whom these focacce had been intended. Then we feasted on focaccia stuffed with broccoli, with eggplant, with onions and potatoes, with fava beans and ricotta, or slathered with tomato conserve and caciocavallo, and then we lost count.
Read similar stories:  Bartering Weeds for Cheese    or   Huge Giarratana Onions