On the slopes of the Mt. Etna volcano in Sicily, there are orchards of heirloom varieties of apples, generally known as mele dell'Etna or Etna apples. Small in size, they thrive in Sicily at an altitude of 1300 meters (4300 ft), and are highly resistant to nasty worms. Slightly elongated in shape, they have pale green or straw-colored skin, often marked with red "freckles." Inside you'll find a sweet juicy pulp and an aromatic scent, like a pleasant apple perfume.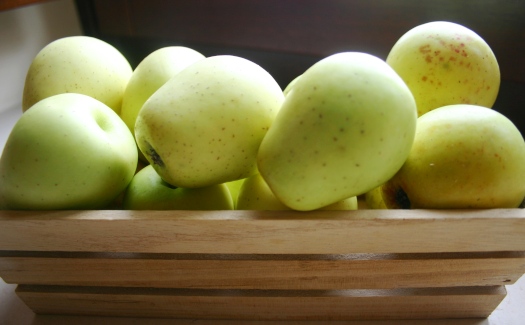 I usually eat 2 or 3 as a snack or paired with a mild cheese, like a provola from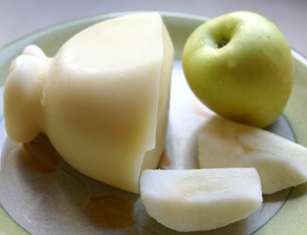 Ragusa. But when a friend from Catania brought me a sackful of Etna apples, I decided to see if they could hold their own in a torta di mele – Italian apple cake. I actually used a couple of varieties in this cake and it was delicious, and makes an impressive presentation, too. So all that boring coring was worth it!
The apple cake batter is easy and basic – butter, sugar, eggs, vanilla, flour, baking powder – with the addition of grated lemon rind. This makes a rustic cake that is not too sweet.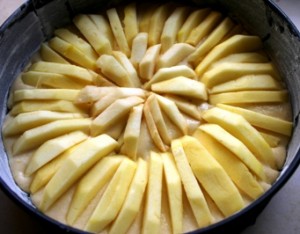 Peeling the apples AFTER the cake batter is already in the pan, along with the placement of the apples, is crucial to the esthetic success of this cake.
The apples are peeled, cored and quartered, then cut into slices about ¼ inch thick. The slices are then placed core side down like rays of the sun (or spokes of a wheel if you are more mechanical) with a larger outer circle and a smaller inner circle. The slices should be close together so that there is very little batter showing. Sprinkle with sugar and then bake for 50-60 minutes. After cooling, dust with confectioner's sugar.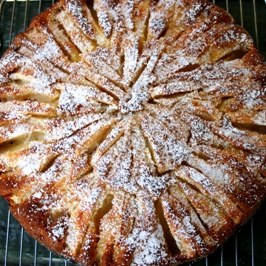 Una bellissima torta, no? And great for breakfast with a cappuccino, too.
Here is the Apple Cake Recipe.
Read similar stories: