In late winter the lemon orchards in southeastern Sicily are a sight to behold, with trees so full of beautiful lemons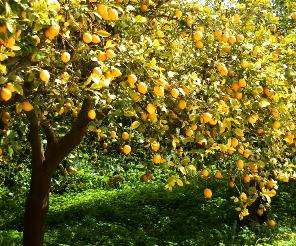 that you can barely see the leaves.  And while you'll find lemons just about all year 'round, this is truly the perfect lemon moment, when the lemons are plump with the winter rain, bursting with juice and so fragrant that it's hard to resist the urge to just bite into one.
Astonishingly, these gorgeous lemons are hard to sell, as the wholesale market price is so low that farmers cannot afford to pick them.  If you ask, most will tell you to pick them for free.  On one such occasion, a farmer chided us for taking so few (a big bagful) and loaded another crateful into our car.  All the while, he was muttering, "Niente, valgono niente"- nothing, they're worth nothing. Heartbreaking, yet this made me feel compelled to make them worth something, at least in my own kitchen.
Driving back home without an estimated 30 kilos (65 lbs) of lemons, we have to roll the windows down to keep from being overcome by lemony perfume, and discuss what to do with too many lemons.  Here's how it went:
Juice a pile of lemons and freeze the juice in ice-cube trays to use in summer's lemon granita
Guzzle a big glass of lemonade
Bake a lemon cake
Clean the brass faucet with lemon and salt.  And my one copper pan.
Make lemon marmalade
Scrub the sink and shower with lemon juice and get rid of all that hard water scale
Bake another lemon cake, using a recipe from the Amalfi coast
Make limoncello (which only uses the peel)
Host a big lunch with lots of lemon pasta, and give each guest a bag of lemons
Soak the wine stains on the tablecloth with lemon juice and salt, and leave to bleach in the sun
Ask sister-in-law for another lemon cake recipe
Bake this new Sicilian lemon cake (grazie Elena!)  See full lemon cake recipe below-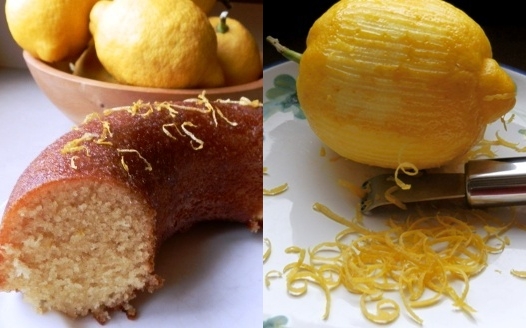 Read similar stories:
Elena's Sicilian Lemon Cake Recipe
Ingredients
4 oz (112 gr)

 

butter at room temp

1 ½ cups (300 gr)

 

sugar

3

 

eggs

1 ½ cups (325 gr)

 

flour

1 tsp (5 gr)

 

baking soda

½ tsp 

salt

2/3 cup (150 ml)

 

*milk

1/3 cup (75 ml)

 

*yogurt

1 TB

 

grated lemon peel

2 TB (30 ml)

 

lemon juice

4 TB (60 ml)

 

lemon juice

½ cup (100 gr) 

sugar

2 tsp

 

lemon zest
Cooking Directions
Grease and flour a 12-cup (3 liter) bundt cake or tube pan, and preheat oven to 325° F (170° C).
Mix the milk and yogurt together and set aside (*alternatively, use 1 cup (220 ml) of milk with 2 tsp of lemon juice, and let sit 15 minutes).
Sift the flour, baking soda and salt together and set aside
With an electric mixer, beat the butter until it is soft and fluffy, then beat in the sugar until light.
Beat in the eggs, one at a time.
Beat in the flour mixture alternately with the milk until well blended.
Stir in the lemon peel and lemon juice.
Spread the batter evenly in the pan.
Bake for 50-55 minutes until a toothpick inserted in cake is clean.
(While cake is baking, make the Lemon Glaze by heating the lemon juice in a small saucepan and stirring in the sugar, and keep warm.)
Remove the cake from the oven and immediately poke several holes in the top of the cake with a long skewer or toothpick.
Pour a bit more than 1/2 of the Lemon Glaze over the cake.
Let cake cool in pan for 20 minutes, then turn out onto rack.
Mix 1 tsp of lemon zest into the remaining lemon glaze and brush or spoon it over the top and sides of the cake.
Sprinkle the remaining tsp of lemon zest over the top of the cake.