As I drive 3 miles to the grocery shop to buy fresh cream for a special occasion cake I plan to bring to a Sicilian lunch, I pass lush green pastures with cows contentedly munching on grasses mixed with wildflowers.  When I arrive at the grocery store, I see that there is no fresh cream in the dairy case.  There is something being sold as whipped cream in a can, and the label contains sugar, vegetable oil, water…by the third ingredient there is still no trace of a dairy product.  This will not do.  Not when I'm trying to make a good impression on Emanuele's sister Nella, who is a brilliant cook and also "la regina dei dolci" – the dessert queen of the family.
I ask the woman behind the cheese counter if they have some cream hidden somewhere in the back, and she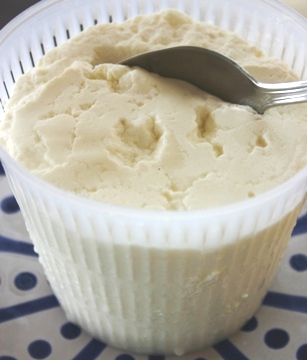 shakes her head, and adds that they rarely stock it.  When I tell her I think that's odd given that we are in the middle of Ragusa's countryside and the heart of Sicily's dairy country, she shrugs and says, "Everyone around here has a cow." 
Everyone, that is, except me.  I feel left out.  I need a cow to have whipped cream on my strawberry cake? 
The woman behind the counter motions to the ricotta.  "E' appena arrivata –  it's just arrived," she says, "from this morning's milk- it's still warm."   Apparently everyone who has a cow doesn't make ricotta.
The ricotta is the color of sunbleached straw, and rests in little slotted tubs, dripping whey into a pan.  She also has yesterday's ricotta, which having had 24 hours to drain, is thicker and drier – it depends on what I want to use it for.  Making ravioli?  Get yesterday's.  Eating it with a spoon?  Get today's.  The ricotta lady smiles and says  "Comunque la mangi sarà buonissima"  – however you eat it, it'll be delicious. 
I think about this for a moment, imagining strawberries and ricotta, and my taste buds tingle.  So, I go with the ricotta flow, and buy a tub of yesterday's and because I want to dig my spoon into it, also one of today's. 
On the way home, I pass the Occhipinti farm where this ricotta comes from, and wave to the happy cows – grazie!  I also revise my dessert plans, and decide to make cream puffs, but stuff them with ricotta.  I make different versions of them – some with dark chocolate and strawberries, others with lemon and almonds – and they are a huge success with everyone.  Nella, the family dessert queen,  pronounces her strawberry puff to be buonissima,  then eats a lemon one – buonissima.  Someone finds the bowl of leftover filling in the fridge and eats a spoonful.  Buonissima.  So the ricotta lady was right.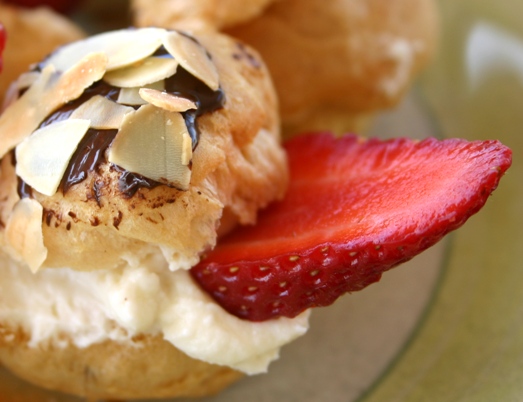 I eventually end up using this dessert recipe as part of a 1-day cooking class in our Sicilian kitchen.  To make a ricotta filling, beat 1 lb. of ricotta with ½ teaspoon of vanilla, a pinch of cinnamon, and sugar to taste. You will need high-quality fresh ricotta for this filling to be buonissima.  Or, get yourself a cow.