A Sunday at the beach was anything but typical on Sept 19, 2010, when members of the Sicily Wildlfe Fund released nine loggerhead sea turtles on the San Lorenzo beach near Noto in eastern Sicily. 
The caretta caretta sea turtles, which had suffered various injuries, had been cared for at the Centro Recupero Fauna Selvatica – Wildlife Rehabilitation Center – and were now deemed to be in good health and ready to return "home."
Ranging in size from 20 to 50 kilos, the sea turtles looked a bit confused when first placed on the sand near the water's edge, and tentatively flopped forward towards the sea.  Once in the water, they happily swam away to the cheers and applause of the Italian families gathered to watch this unusual event.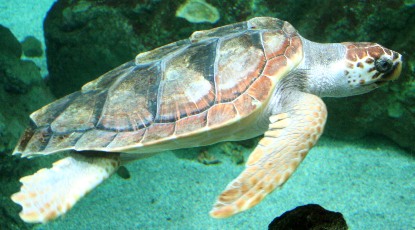 More sea turtle news:  The San Lorenzo beach near Noto in eastern Sicily may offer lovely walking as well as delightfully clear water for a dip, but this summer it also appealed to a couple of loggerhead turtles, who made it their nesting ground.  The two nests containing approximately 70 eggs each, were made by caretta caretta sea turtles on 2 separate occasions this summer, July 31 and August 15, 2010, and are to due to hatch in October 2010.  I'll keep you posted!
Read more stories about Sicily: The Magical Mandrake Plant