Since I wrote the post below, we've been to Sicily's various St. Joseph festivities many times, and have now added them to our Walking and Cooking in Eastern Sicily tour March 15-21, 2019, with a special offer  on the last 2 rooms on this unique tour!
When they say feast day in Sicily, they are not kidding.  At least they aren't in the town of Santa Croce Camerina, near Ragusa in eastern Sicily, where the festivities in celebration of their patron saint San Giuseppe go on for days, culminating in a fabulous food auction.
The auction starts off in the morning with an amazingly energetic auctioneer up on a bandstand surrounded by tables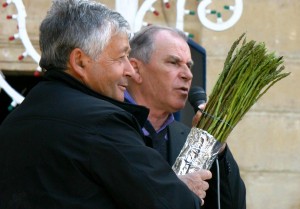 of food.  He's got a couple of helpers who hold up the merchandise, and bag it and make change as the auction progresses at a fast pace.  Beautiful loaves of fancy festival breads – this is the famous Pane di San Giuseppe – shaped like huge bracelets of birds & flowers, along with 8 kilo cheeses and a bottle of wine start off the morning. I briefly wish I had a large family to feed so that I can join in the bidding, but change my mind when the bidding reaches 100 euro.
As the huge piles of merchandise are quickly auctioned off, the supply is replenished by a little 3-wheeled truck overflowing with culinary loot.  It backs up to the bandstands and unloads more artfully shaped festival breads, boxes of tortes from the local pasticcerie, thick hunks of caciocavallo and plump provola cheeses, crates of oranges and bunches of wild asparagus, a string of fennel-spiced sausages, jugs of olive oil, a live rooster, a dead rabbit, a haunch of pork, a platter of arancini, cases of wine, and more kinds of cookies that you can possibly imagine.
Baskets of the much prized fungo di carrubo, a rare mushroom that grows on only a few carob trees, and whose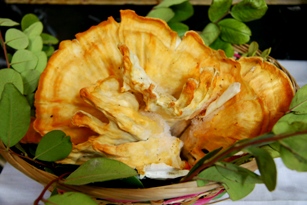 location are kept top secret, are kept on a special altar in the church, and a reverent hush falls over the crowd whenever one of these baskets is brought out for auction.  These will fetch prices upwards of 50 euro per basket, and will end up in a stew with snails (which is the only thing I didn't see on auction.)
In the midst of all of this the crowd swells, then ebbs as they file into church for Mass, then swells again, as the church spills out into a procession with a brass band leading the way.  And all the while the auctioneer never stops: "10 euro, 12 euro, 20 euro, uno, due, tre – venduto!" The prices fetched are relatively high – after all this is a benefit for the church and needy causes – but occasionally a bargain slips by, like the crate of fresh citron and blood oranges for a mere 10 euro. After several hours, the piles of foodstuff are hardly diminished, and we learn that the local name for this is the cena in piazza – the supper in the square – and after a break for lunch, the auction will continue until all is sold near suppertime.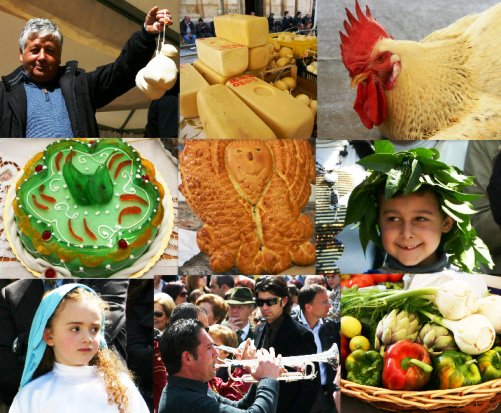 More San Giuseppe celebrations: