Traditionally Italians escape from the city on Sundays, going to a relative's home, or a country restaurant for a leisurely Sunday lunch with their family. Here in Sicily, the casual atmosphere of an agriturismo – a farm restaurant – means the whole family is welcome, so when no one is up to the task of cooking all day for a big family, this is a popular alternative to a family home. 
I have found that most of the agriturismi in the Ragusa area of Sicily serve essentially the same thing, with the mainstays being focacce, ricotta-stuffed ravioli, and grilled sausages. Unfortunately, just because something is "homemade" and comes from a farm does not make it good. Often the pasta is thick and heavy, the edges of the ravioli not fully cooked, and the dining room cold and damp in winter.  Perhaps worst of all, big bottles of Coke adorn the tables in an attempt to keep the kids quiet (along with a special kids menu that often includes french fries!)  So much for tradition.  And we wonder why many southern Italian kids are decidedly pudgy. 
One agriturismo that deserves high marks for the quality of their food is the Case Passamonte, below the town of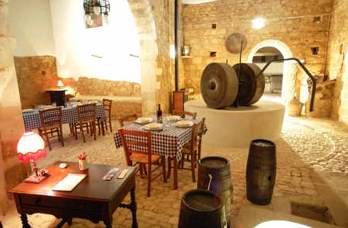 Chiaramonte and near the road to Comiso in the province of Ragusa Sicily.  And rather than Coke, bottles of the house Nero d'Avola wine adorn the tables.  While the wine is young and a bit rough, it seems to pair well with the rustic food.    A small wood stove provided some heat in the high-ceilinged room – the body heat of the other 100 guests would provide the rest.
Like most agriturismi, the food is served to the entire dining room at once – no point in coming early, as they don't start serving until everyone is seated.  And there is far too much food for a normal person (i.e. non-Sicilian) to consume, but the quality is excellent and the price low.  We paid just 19 euro per person for our gargantuan meal with house wine.
There were 2 large rooms packed with families when we arrived – most tables had 8-14 people – and we were the only table of two, feeling like a pair of lonely orphans but glad that the screaming babies were not ours. A connecting room held the huge old millstone from what was once an olive press, and the cobblestone floor was slippery with the oil of the last hundred years, and as the lunch progressed, became a favorite place for kids to run around in a frantic dangerous game of tag.  No one seemed to mind any of this, not even the waiters carrying massive trays of food, who skillfully dodged the wild kids.  They'd obviously done this before.  
The antipasto had a nice variety and the cook a deft touch with the focaccia. In the Ragusa area, some focacce are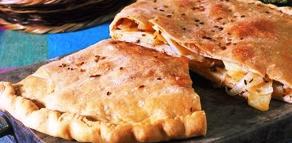 made of dough rolled paper thin, then topped with a filling before being rolled or folded and baked. Others are made like a turnover, with a thicker bread-like crust and a vegetable filling.  The Case Passamonte proved to be particularly adept in making the thin variety, as the dough was perfectly crisp. All the fillings were also excellent – simple ricotta and parsley or fava beans, and potato with a sun-dried tomato relish called capuliata.  The rest of the antipasto plate was filled with spiced green olives, 2 types of soft cheeses, pickled eggplant, and tiny arancini, the savory rice balls that are a Sicilian specialty.   This might constitute lunch in many people's book, but we had just begun.
Next came a couple of pasta dishes – thin, roughly cut malfatti pasta strips with bits of sausage, broccoli & walnuts, and hand-shaped cavatelli dressed with sweet tomato conserve and sharp salted ricotta – followed by a rice dish flavored with wild fennel.  After that session of carbo-loading, there were thin slices of roast pork with almonds and mustard greens and another meat that I can't recall because we both refused it, weakly waving our white napkins in a sign of surrender.  Although we had sworn we could eat no more, about 20 minutes later, when the warm ricotta fritters arrived, we forced ourselves to try them, and ended up eating them all and licking our finger of the sugary cinnamon coating. 
We skipped out on the lethal concoctions of limoncello and nocino (made from alcohol and walnuts) ostensibly served as a "digestive," yet still nearly tripped over the cobblestones on our way to the coffee bar.  Fortified by strong espresso, we staggered out into the winter sunshine 4 hours after our arrival, full of the delights of Sunday lunch in Sicily.
Note: Many agriturismi also offer rooms.  In Sicily this accommodation is often very basic, bordering on grim.  I would recommend that you eat but not sleep at Case Passamonte.  Stay in Ragusa and drive to Case Passamonte for Sunday lunch.
Agriturismo Case Passamonte
Contrada Cavapiana
Chiaramonte Gulfi, Ragusa
From Ragusa, take the SS 514 main road towards Catania. Exit at Chiaramonte Gulfi, turn right and follow frequent signs for Case Passamonte. The last section is on a bumpy dirt road-don't bring the Ferrari.
Reservations are necessary as Sunday lunch is normally a sell out. 
Tel: 0932 925 256 or cell 339 2923186