There are onions, and then there are the onions of Giarratana, Sicily.  Huge and sweet, they are often eaten raw in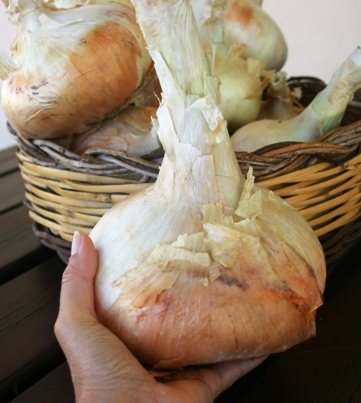 salads or used as an edible spoon to scoop up mouthfuls of cooked fava beans.
They are also excellent when used as stuffing in focacce, simply grilled or baked with various condiments.  They appear in the markets in July and August, and only grow on about 30 hectares (75 acres) of land around Giarratana, an untouristed small town in the province of Ragusa in southeastern Sicily – most of them are sold or consumed at the annual festival, the Sagra della Cipolla.
We got a good supply of Giarratana onions as pre-festival gastronomic training for our stomachs before we spend several hours gorging on onion-based dishes at the Sagra della Cipolla in mid- August.  With thick white flesh and paper-thin golden skin, they've got a flattened shape like a pudgy Frisbee and are often sold with a  long stem so they can be stored by hanging in a cool dry pantry.  The "smallest" onion in our 20 kilo (44 lb) crate weighed in at a little over 500 grams (1 lb.) and the largest was a humongous fellow that tipped the scales at 1.3 kg  (nearly 3 lbs) and was roughly the size of a Vespa tire.  
To prepare cipolle di Giarratana, here are some cooking techniques and a recipe. You can also use "regular" white onions for the roasted onion recipe, as any harsh onion taste will dissipate during slow cooking. 
Grilled Giarratana Onions:
Take a small Giarratana onion, and bury it in the hot coals/ashes of a wood fire.  Let it cook for about 30 minutes, dig it up and scrape off any burned bits.  Anoint with oil and salt, and eat.
Baked Cipolle di Giarratana:
Cut a a Giarratana onion into ¼" slices, dip in olive oil and roll in dry breadcrumbs that have been seasoned with salt and good Sicilian oregano. Bake until almost tender when pierced with a fork. Sprinkle with grated caciocavallo or parmigiano cheese, drizzle with a bit of olive oil and place in a hot oven or under a broiler to brown. 
Roasted Onions:
This simple dish works well with regular onions, too.
Cut an onion into fourths (or smaller if it's a huge Giarratana onion), drizzle generously with olive oil and bake at 180° C (350° F) for about 1 hours,  turning the onions occasionally so they'll cook evenly.  Turn the heat up for the last 10-15 minutes so they get brown and caramelized, but be careful not to burn. Transfer to a serving dish, sprinkle with salt, a little vinegar and add big spoonful of rinsed salted capers and a bit more oil.  Mix together.  Serve as a side dish to grilled meats or savor it all by itself, sopping up all the juices with crusty bread.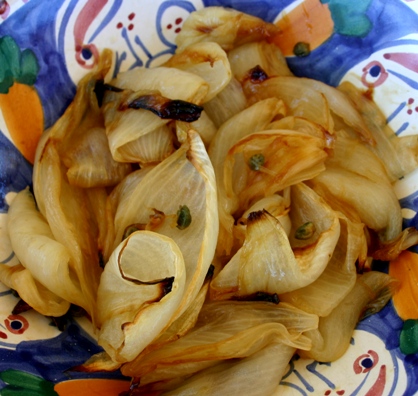 Giarratana is a pleasant Baroque town off the beaten track, about 20 km from Ragusa in eastern Sicily.  The annual onion festival takes place on August 14.
Read more about Italian food:  Pairing Italian Cheese and Honey      or the quest for supernatural powers in Sicily:  The Magical Mandrake Plant