If you have never eaten vine tendrils, you are not alone.  I lived in Tuscany for many years, and never heard of tenerumi, the vine tendrils of the cucuzza
plant. In fact, I had never heard of cucuzza.  But here in Sicily, cucuzza is a common summer vegetable, a kind of thin pale green zucchina often of obscenely long length.  Relatively tasteless, they are the subject of a Sicilian proverb: Falla come vuoi, sempre cucuzza è.  (However you cook it, it's still just squash.)
At the weekly farmer's market in Modica, Sicily, I found freshly cut tenerumi,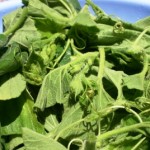 vine tendrils and leaves of  the cucuzza plant.  Though I had eaten them a few times, and enjoyed their pleasantly nutty taste with a slightly bitter edge, I'd never cooked them myself.  But I was feeling extravagant, so plunked down my 1 euro and 50 cents, gambling on making something good out of a couple of bunches.
The vendor suggested that I boil them and then dress them with olive oil, a classically simple cooking method used for many Sicilian greens- I suspect if you use excellent olive oil, it would make even cooked grass taste good.  But I wanted more info, so I phoned Emanuele's sister Elisa for further advice.  It just so happened that her sister Nella was visiting, and as I was jotting down the cooking instructions, Nella disagreed, and took over the phone, so I ended up combining their advice into a final recipe.
The recipe below makes tenerumi cooked greens, or you can then continue, as I did, and make tenerumi soup with pasta and greens.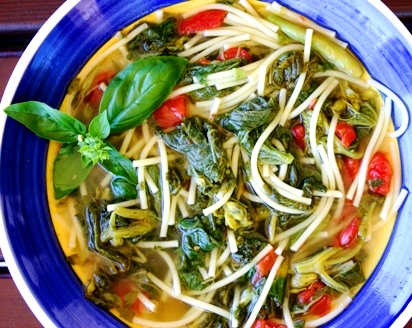 Tenerumi Sicilian Greens
Ingredients
1 colander full (about 2 lb, 1 kilo)

 

cleaned tenerumi

¾ lb. (300 grams) 

fresh ripe tomatoes

1

 

garlic clove

4 TB

 

extra-virgin olive oil

Fresh basil

Hot red pepper (optional)
Cooking Directions
Snap off the leaves, tender stems and tendrils, discarding any tough stems and overly large or yellow leaves, and put them in a basin filled with water and wash thoroughly.
If you find a few tiny underdeveloped cucuzze, break them in half and add those to the basin.
Change the water a couple of times to make sure there is no grit left in the leaves.
Pile the washed tenerumi in a colander.
Place a large pot of water to boil.
Place the tomatoes in the boiling water for a minute, then take them out and place them in cold water so that they will now be easy to peel.
Add some salt to the boiling water, put in the tenerumi, cover and simmer until almost tender but still bright green in color.
Meanwhile, in another pot, sauté the garlic clove in the olive oil, then discard the clove.
Peel the tomatoes, cut into small pieces, and add to the oil.
Add the optional hot pepper if you want a piccante touch.
Take the cooked greens out of the pot but save the cooking water – I do this by taking out clumps of greens with tongs, and plopping them on a big cutting board.
Roughly chop the tenerumi and add them to the sautè pot.
Cook until tomatoes are soft, adding a few tablespoons of cooking water.
Stir in a few basil leaves, and salt to taste.
Serve as a side dish tenerumi greens – sop up the oil and juice with thick crusty bread and you have a good summer lunch.
See More Recipes on our Website
Read more about Sicily: