One of the pleasures of living in Sicily is its mild winter climate, and the wildflowers that come with it.
From the cooler 500-meter high hills where I live in southeastern Sicily, it's a leisurely 45-minute drive to the warmer coast. Within this short distance the difference in the climate means different wildflowers are in bloom, so a day's excursion can be filled with a variety of colorful discoveries.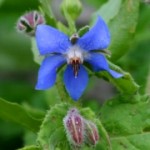 Up in the hills near Modica where I live, borage blooms in winter, and the flowers are edible.  Their extraordinary blue color adds a bright accent to winter salads.  I often walk out my door to pick this in the neighboring fields, along with a bouquet of purple anemones to grace the table.
Cape sorrel seems to grow everywhere from the highest hills down to the coast, and is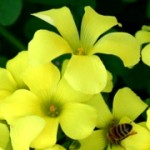 considered an invasive pest when it takes over cultivated fields.  But what a beautiful pest it is with its phosporescent yellow flowers, plus the stems are edible in small amounts.  They have a sharp lemony flavor and are pleasant to chew on when walking.
Along the coast in southeast Sicily the temperature is often 10 degrees warmer than inland, offering a whole new environment for different wildflowers.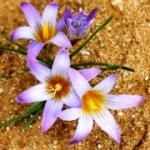 I love the delicate sand crocus that bloom along the coastal footpath at Vendicari, and have to hop around to keep from trampling them.  As the day progresses, they open wider to soak up the rays of the Sicilian sun.  The sky is silky blue, the wind is warm, and here in Sicily winter feels very far away.