A trullo is a stone building with a cone-shaped roof that is peculiar to the region of Puglia in southeastern Italy.  The town of Alberobello has the highest concentration of trulli, about 1500 of them, that are built on 2 sides of a steep valley.  Since Alberobello gets a lot of tourists, we prefer to visit the town of Alberobello on a guided walking tour near sunset, when the tour busses full of day-trippers have departed, and the light is beautiful.  We explore the quiet part of town on our guided walk of Alberobello where few tourists go, and you can soak in the unusual atmosphere, like being in an imaginary world inhabited by hobbits.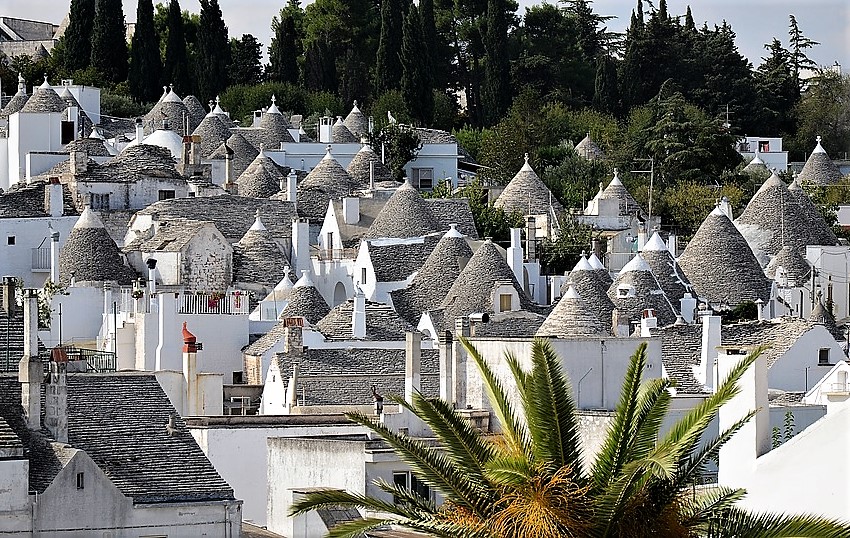 One of the features of our walking tour in Puglia is staying in a trullo.  We love sleeping in a trullo under the tall cone shaped roof, and in the morning, stepping out into a little stone-paved courtyard.  Of course, the lovely trulli that we stay in on our walking tour in Puglia have been lovingly restored, retaining the original stone features while adding nice bathrooms, and plush beds with luscious linens, so it is quite a luxurious experience.  On our Puglia Walk, we choose  to stay in a trullo in the countryside, where the trulli are grouped together in small enclaves, and have been restored into one of the best boutique hotels in Italy, with a style unique to Puglia.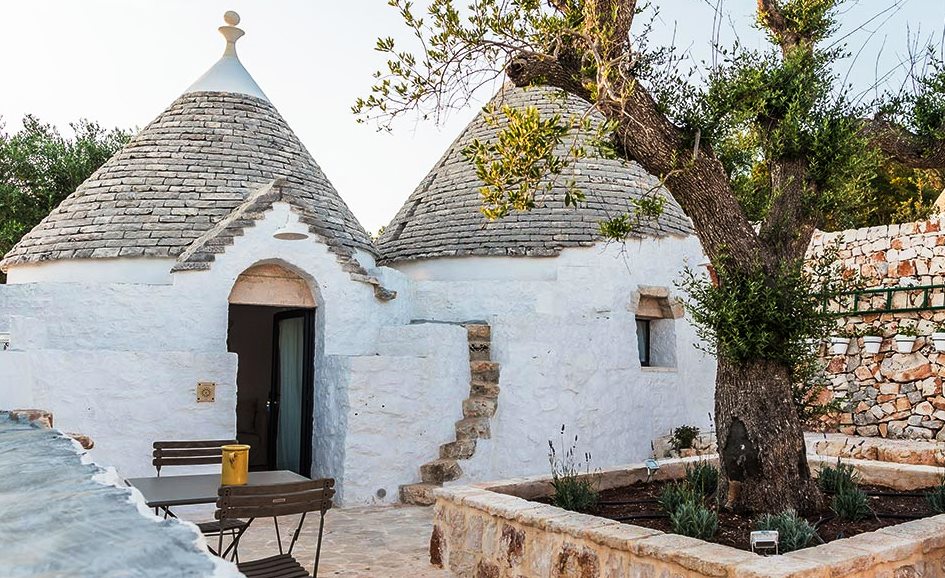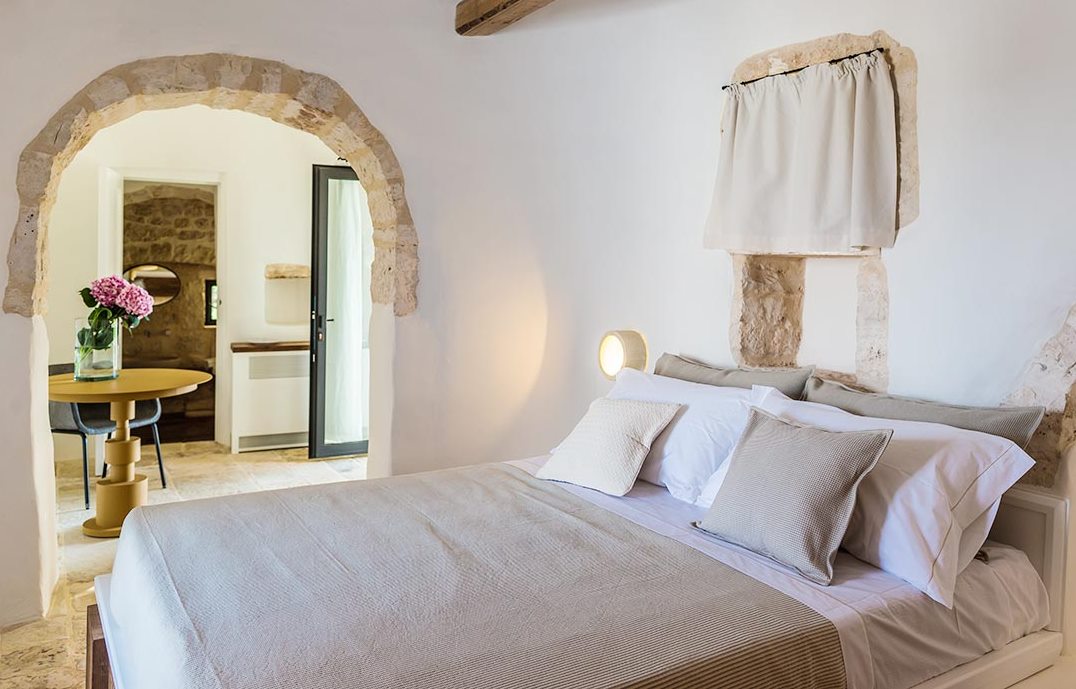 Unlike the luxurious trulli we stay in on our Puglia walking tour, the original trulli were very simple ground floor dwellings without heat – the thick stone walls and small windows kept the trulli fairly cool in summer and bearably warm in winter – and were often attached to a stable where a donkey slept. They were extremely basic, yet were inhabited in very rustic conditions up to the 1960's.  There is only one trullo in Alberobello that has an upper floor.  It is called the "Trullo Sovrano" – the sovereign or supreme trullo –  the king of all trulli!   Today it is a museum (small admission fee) and furnished in its original style, so it is interesting to see.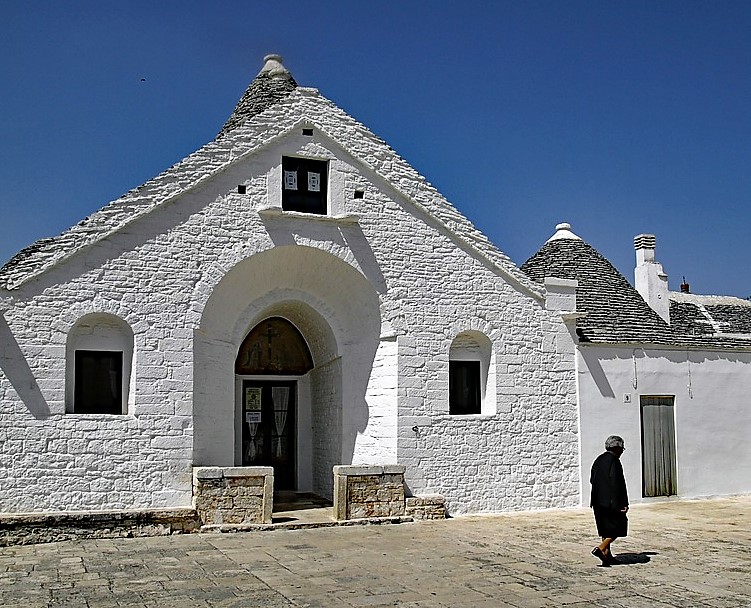 The roof of a trullo is made of flat pieces of stone without mortar, and may be the key to why this curious shape came about.  Historically, it seems that buildings without a roof were not taxed by local authorities, so when tax collectors showed up, the roof of the trullo could be quickly dismantled as it was made of dry stone, and the dwelling remained tax-free.
The decorative top of a trullo, called a pinnacle, can take several different shapes.  Some people believe that the shape of the pinnacle was a kind of  "brand"  of the person who built it, who specialized in building trulli, so was known as a "trullaro."  Other people think that the pinnacles they could have been a primitive symbol of the sun, or were simply chosen by the owner of the dwelling as their preferred decoration.  Whatever the reason, it is interesting to see the different pinnacle styles during our walking tour in Puglia.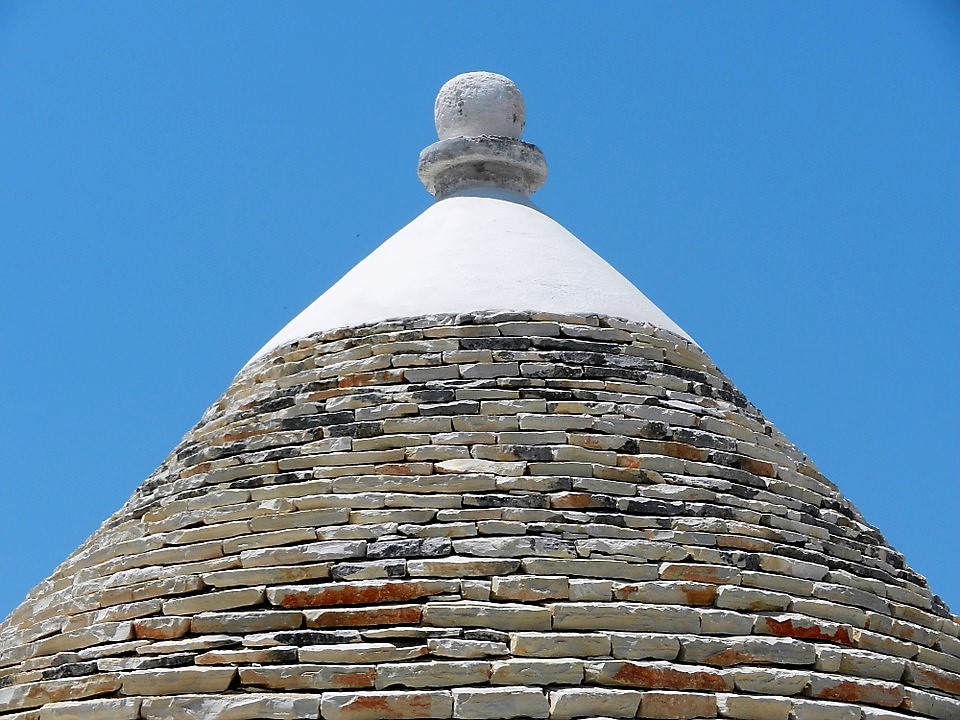 You will notice while on a walking tour in Alberobello, that the roofs of many of the trulli are decorated with symbols in white paint.  These symbols have both religious and pagan meanings.  The symbols in white paint on some of the trullo roofs are also quite interesting, and may have either a christian or pagan symbolism. Originally, these symbols were thought to have magic properties capable of keeping away evil spirits, and adorned the countryside trulli of farmers, who believed the symbols would bring them a good harvest.  Eventually many of the symbols took on a religious significance, and we'll learn more about these symbols we see on our walking tour of the trulli in Alberobello.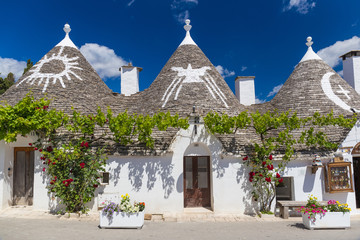 In spite of getting a lot of tourist traffic, you can actually eat quite well in Alberobello, as the modern part of town is where most of the locals live, but they like to come into the center of Alberobello for the evening passeggiata followed by dinner.  We adore eating at the Trullo D'Oro – the Golden Trullo – where their antipasto consists of 25 different dishes, which we'll enjoy on our Puglia walking tour. Though they've recently spruced up the interior, the food is thankfully just as delicious as ever, and it remains one of our favorite restaurants in Alberobello.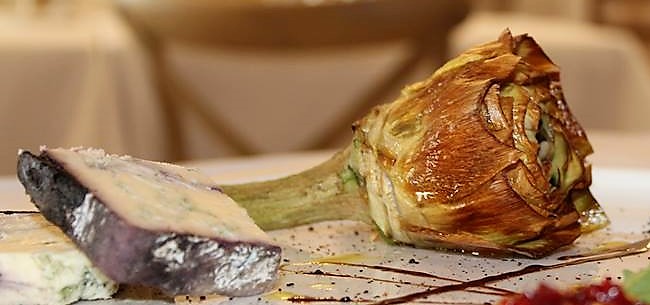 There are often elaborate festivals in Alberobello, which are worth attending, such as their festival honoring their two patron saints, Cosma and Damiano, held in late September.  Devotees from the surrounding areas all descend upon Alberobello to attend mass and participate in a solemn procession.  Then the fun begins.  The streets are filled with market stalls, brass bands play exuberantly as they march through town, and traditional festival foods are served, such as cured olives, grilled meats, and a focaccia with salami and sharp provolone.  The center of town is decorated with elaborate displays of colored lights, and the festival finishes off with a grand display of loud fireworks.  Afterwards, families mill about chatting with friends while trying to keep their excited children under control, and then gradually the town empties out and an eerie calm falls over the town, the trulli silent, the streets deserted, as though nothing at all had happened, and soon the town is fast asleep.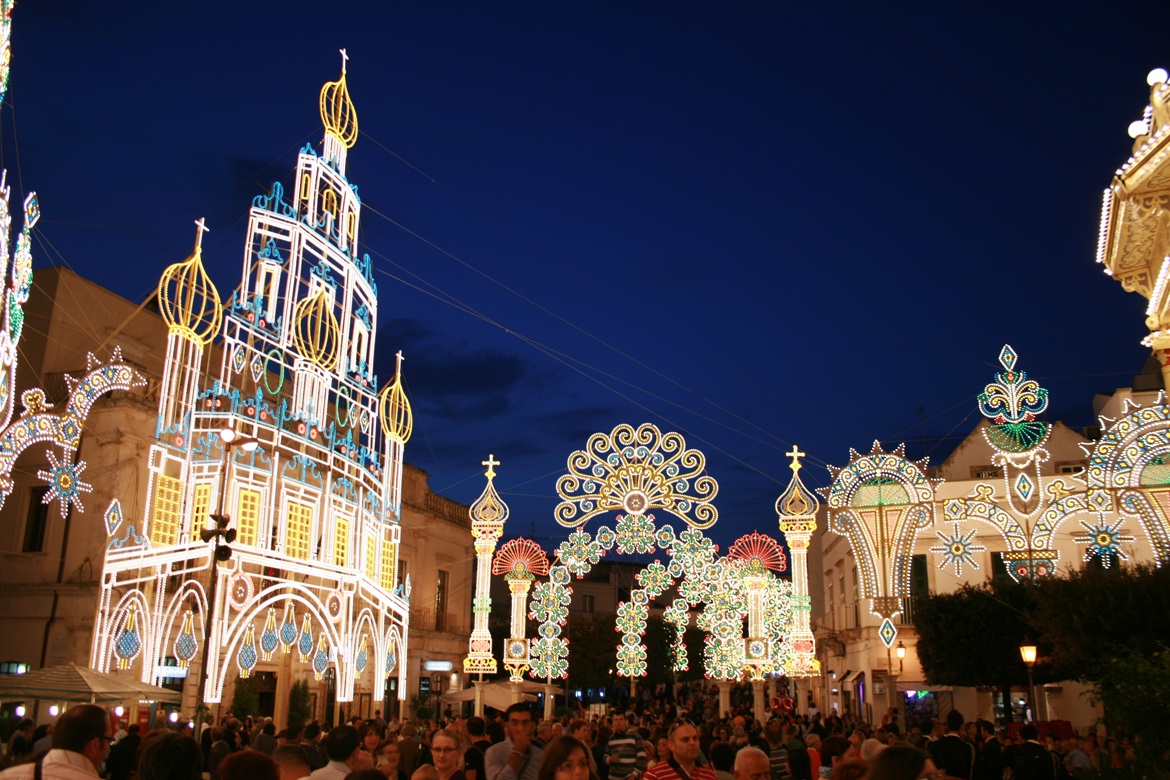 Taking a walking tour of Alberobello and staying in a trullo are just a couple of the highlights of our Puglia walk – this walking tour in Italy is rich in history and beautiful countryside walks and coastal strolls, as well as having some of the best food in Italy, which is quite a claim!  Join us on this easy walking tour in Puglia for a "trulli" memorable vacation!
Other easy to moderate walking tours in Italy may interest you:
Italian Lakes Walk – Beautiful walks & lush gardens around Lake Como & Lake Iseo
Splendors of Sicily – Spectacular walks & amazing archeological sites
Prefer a Culinary Tour with cooking lessons?
Savoring Sicily – Shop at open-air markets, meet artisan food producers, and dine in a private home