Located between the towns of Montepulciano and Pienza in southern Tuscany, the Podere Dionora is a luxurious 6-room boutique hotel set in the midst of 100 acres of peaceful countryside with outstanding views.  It offers the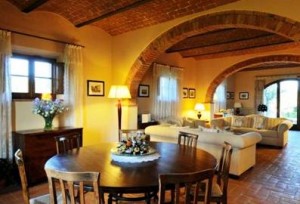 services of a top luxury hotel with the warmth and intimacy of a private Tuscan villa.  The rooms offer a combination of classic Tuscan design with fine linens and  luxurious  bathrooms while the extensive gardens feature a stunning new pool with views stretching across the Val d'Orcia.  Perhaps the best part of the Podere Dionora is the warm welcoming service that makes any stay extraordinary.  I have personally stayed at the Podere Dionora on many occasions, and from the moment I walked in the front door, it felt as welcoming as a second home, while fulfilling that heady desire to experience living in a luxurious fully-staffed Tuscan villa.   If only it were forever!
Italian Connection has been a loyal partner of Podere Dionora since it first opened 12 years ago, and we stay here on our Tuscany Hilltowns walking tour.  We are now able to offer exclusive savings and complimentary perks to independent travelers:
20% off regular room rates, any time, with no minimum stay.
Complimentary bottle of Dionora's Rosso DOC wine
Free room upgrade upon arrival (based on availability)
Special Italian Connection rates at the Dionora can only be booked directly through the hotel.   When inquiring about availability on their website,  under "Requests" please specify the discount code "IC20-Anita" to receive 20% off the Dionora's rack rates.
Podere Dionora has long been a favorite on our Tuscany Hilltowns tour as well as for private groups of family &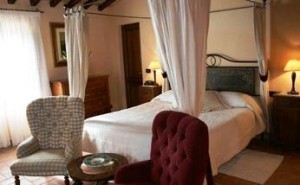 friends, who rent all the rooms for the wonderful experience of staying in a fully-staffed villa in one of the most beautiful parts of Tuscany with spectacular walking.   Podere Dionora is the kind of place that invites you to leave your worries behind. You can just kick back and relax at the gorgeous pool, or hire a private guide and driver for a day exploring the beautiful Tuscan hill towns, or wine tasting at nearby wineries.  The Dionora is in a strategic position for visiting many towns in Tuscany and Umbria, and dining in excellent restaurants with authentic Tuscan cuisine. We can organize a private tour for 2 or more people, with the Podere Dionora as your base. Call 780-438-5712 to discuss your tour.