My favorite place for a summer walking tour is the Dolomites, and now you can enjoy idyllic hikes, breathtaking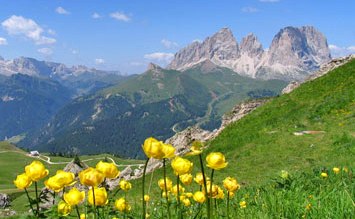 wildflowers, and great food with these 3 special offers:
Luxury Perks Offer
Stay in our signature luxurious 4 & 5-star hotels (including the Relais & Chateaux Rosa Alpina and historic Hotel Ancora in Cortina) plus enjoy these complimentary perks:
Wildflowers in the Dolomites, July 7-13:
Enjoy a complimentary dinner at the 3-star Michelin restaurant St. Hubertus with a sumptuous tasting menu.
Cortina Dolomites High Routes, July 13-17:
Pamper yourself with a spacious suite upgrade for all 4 nights.
Book both tours and receive an additional 2-night suite upgrade and a discount of $100 per person.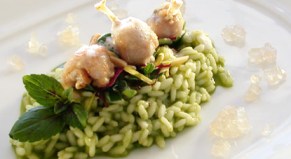 Simply Italian Offer
Stay in simpler hotels and welcoming B&B, but enjoy all the same great meals & activities of our signature luxury tour.
Wildflowers in the Dolomites –Save $500 per person
Cortina Dolomites High Routes –Save $250 per person
Book both tours and enjoy an additional discount of $100 per person, for a total savings of $850 per person.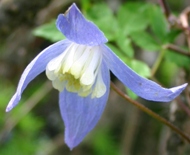 Solo Traveler Offer
No single supplement for our Wildflowers in the Dolomites walking tour (save $725) or Cortina Dolomites High Routes hike (save $530).
Book both tours and in addition you'll receive a complimentary pre-tour hotel night in Bolzano. Offer limited to 2 single rooms per tour.
Call today to book your Dolomites walking tour: 1-800-462-7911
For day-by-day itineraries of our Dolomites walking tours, click:
Wildflowers in the Dolomites  – July 7-13, a walking tour in 3 valleys
Dolomites High Routes – July 13-17, a walking tour from Cortina
More News from the Dolomites of Italy:
We've been organizing walking tours in the Dolomites for 18 years, and the New York Times recently discovered some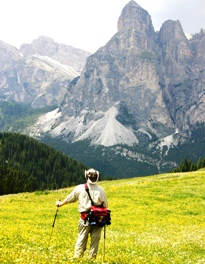 of our favorite dining spots and hotels (Rifugio Averau and Hotel Ancora), except we go without the snow!  Read the NYT's winter in the Dolomites article.
The long-awaited article about our Dolomites tour by Christopher Buckley is due to be published in ForbesLife in September, 2010. We'll keep you posted.  In the meantime, see Christopher talking about his Italian Connection tour on video-he took the exciting via ferrata option, which I wrote about in this previous post.
Anita Iaconangelo, founder of Italian Connection, we'll be leading both of the Dolomites tours.  She knows the walking & hiking trails of the Dolomites almost as well as she knows the best pastry shops.  Don't miss out on the most spectacular mountains in Europe -the Dolomites are now a UNESCO protected area.
Call to book your Dolomites walking tour:
Toll free USA & Canada: 800-462 7911
Telephone Canada:  780-438-5712
Italy: (39) 0932 231 816