The Tre Cime – Three Peaks – di Lavaredo, are some of the most photographed mountains of the Dolomites, and the surrounding walking trails offer beautiful hikes.  However, since this spectacular area is served by a good road and offers some easy walks, it can get packed with hikers.  Here's how to enjoy this walk without the crowds along a medium difficulty trail with great views.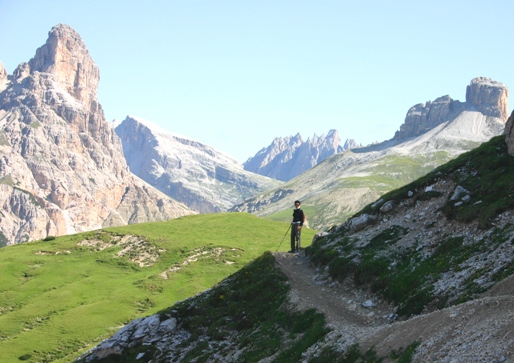 Start early in the day before the crowds arrive, and you'll be done your hike before the frequent afternoon thunderstorms.  Avoid Sundays, when the Tre Cime di Lavaredo area is overrun, though the people watching is astonishing: loud families with wild kids, super-fit climbers, pudgy walkers gasping for air, young Italian couples in tight jeans and high heels, and hoards of nuns in hiking boots.  All rather amusing but hardly peaceful.
Once you have found a parking place in the vast parking area (and paid the 20 euro per car toll/entrance fee) you can stop for a coffee at the Rifugio Auronzo before setting off on this loop walk around the 3 Cime di Lavaredo.
Walk to the end of the lower parking areas, and take the #105 trail (this overlaps with part of the Alta Via #4, one of the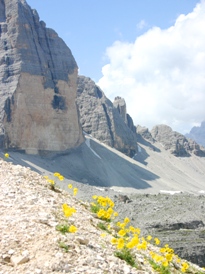 Dolomites High Routes long distance trails).  Follow this trail all the way to the Rifugio Lavaredo, which will take about 2-1/2 hours.  If you start early in the day (by 9.30 am), you will see almost no one on this trail and can enjoy the scenery in blissful solitude. Note the wildflowers, especially the yellow alpine poppies that favor this rugged rocky terrain. There is some steep up and down along the trail, but if done slowly, it is not difficult.  Along the way, you will pass some tiny lakes surrounded by wild rhododendron, and a malga, an alpine dairy farm, which may be serving cool glasses of fresh milk. 
The Rifugio Lavaredo is at an intersection of several trails, so it is often chaotic with wild-haired climbers and sweaty hikers.  Welcome back to civilization. At least you can enjoy a pit stop and refuel with Dolomitic portions of chocolate cake and apple strudel.  
You now follow the main wide trail #101 with breathtaking views and a bit of a climb up to the small pass that offers the best views of the 3 Cime as well as alpine climbers on the north face.  (Above you there is a narrow trail from a WW I battlefield, where there is a via ferrata, a trail equipped with fixed cables, but you keep to the main walking trail).  You'll get to the Rifugio Lavaredo in about 90 minutes, which is a good place for lunch.  A hearty plate of polenta with goulash spiced with juniper berries is a traditonal food in this part of Italy and will taste oh-so-good.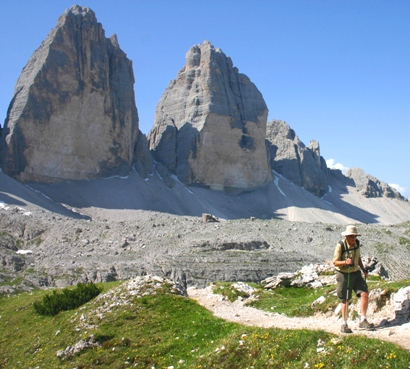 After the Rifugio Lavaredo you will no doubt find lots of walkers, but it hardly matters at this point because you have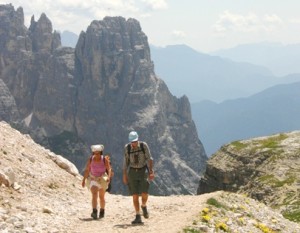 had such a great walk.  It takes another 20-30 minutes to reach the parking area of the Rifugio Auronzo where you started.  You will have seen an impressive number of Dolomite peaks along the way- the Cristallo, Sorapiss, Croda Rossa – as well as the beautiful blue lake of Misurina.  Now you know why this is one of the most spectacular walks in the Dolomites, if not all of  Italy!
My previous posts about the Dolomites include Gourmet Dining in Rifugi and a Via Ferrata Hike with Christopher Buckley on video.
We are based in Cortina when we do this walk on our Wildlflowers in the Dolomites walking tour, where we stay in the historic Hotel Ancora in downtown Cortina, or if you want to be utterly pampered in a luxurious spa hotel, the Hotel Cristallo Palace a few kilometers up the hill with a shuttle service into town. E-mail us as we often have specially discounted hotel rates at the Cristallo for individual travelers.