After a night of rain and hail, the morning  sunshine is thick and warm, like an apology for the night before. Late winter in Sicily is known for its capricious weather, so I seize the moment to head out on a walk foraging for wild asparagus.
Wild asparagus are thinner than the cultivated variety, and more bitter in taste.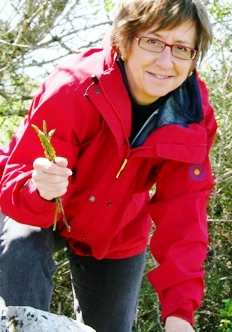 They are delicious in a frittata or simply steamed and doused with olive oil.  But they really come into their own in an asparagus risotto, where they maintain a pungent flavor that is in perfect contrast to the mild nutty flavor of rice.  And the effort and thrill of finding wild asparagus makes eating them infinitely more pleasurable.
The countryside where I live near Modica in Sicily is characterized by hand chiseled stone walls that enclose pastures and form the terracing of olive groves, and are a symbol of the backbreaking work needed to farm this rocky land. But with no effort at all, wild asparagus thrives here.  It loves the crevices of limestone walls or the leafy soil under the shade of a carob tree, while the thickest, most tantalizing spears favor the tangle of treacherously thorny brambles. Don't wear your good coat.
In fact, you don't need fancy equipment to forage for wild asparagus- the older and rattier the better.  I wear an old windbreaker which is relatively resistant to snags.  It's also bright red, so that in case I become hopelessly entangled in brambles, a search team will be able to locate my body.  Old gloves, boots, jeans and filthy gloves complete the look.  Of course, you'll need a bag for carrying all the asparagus (does not have to match your shoes.) Optional equipment includes a knife (rusty and bent) and a whistle (in case you don't have a red coat) and a walking stick, which is useful for snaring asparagus spears that are hard to reach, or balancing on the edge of a stone wall.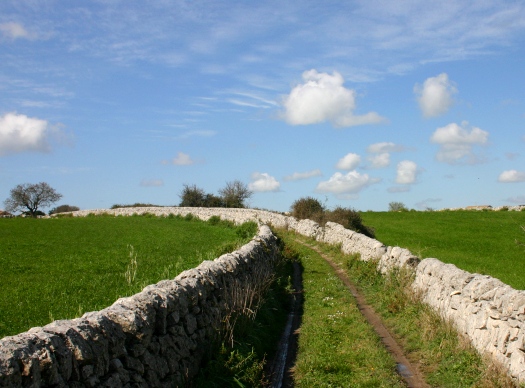 Emanuele joins me on this walk in Sicily, and in classic Italian fashion, ignores all this good advice and wears a nice jacket, woolen dress pants, and city shoes, then curses furiously when he inevitably steps in cow dung.  Just a few minutes walk from our front door and we are on an old farm road called a trazzera, lined with beautiful stone walls that curve into the distance.  Emerald green fields stretch out against a silky blue sky, and we walk in silence, enjoying the warmth of the sun on our backs.  Midway into our walk, we've only found a few asparagus spears, but then Emanuele sees one on the other side of a fence, and leans over, only to have a donkey try and snatch it first. Emanuele wins.
We open the rusty gate to "la casetta degli asparagi" a little abandoned house that has long  been one of our most prolific foraging spots, but in the overgrown garden there is far less asparagus then we had anticipated.  We decide we need to go further afield, and are soon clambering over dry-stone walls, landing in shrubs of thyme that release their spicy fragrance underfoot.   We scramble up and down terraces through olive groves, and rummage under carob trees.  Most of the asparagus is still quite thin and small, but the beautiful day does not allow us to be disappointed.   Everywhere we look, there are signs of spring, and we pause to collect a few wildflowers to grace our kitchen table. A guided walking tour in Sicily is the prefect way to enjoy the splendid countryside, and learn about the local history.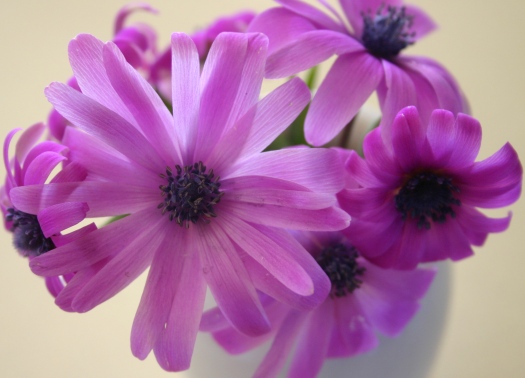 On the way back along our initial trazzera, I spy a tall elegant asparagus spear

soaring above the stone wall.  How ever did we miss this?  "It must have grown while we were walking" says Emanuele drily, as he expertly whacks it with a long stick and triumphantly catches it in midair. I boost myself up on the wall and peer over the other side, and gasp in glee at a clump of beautiful asparagus spears and we race each other to get over the wall.  I do this clumsily, teetering on the edge of the wall before taking an awkward dangerous leap, but being first counts, not style.  I want the satisfaction of picking these spears myself. They are tall and plump, and snap readily under my eager fingers, squirting asparagus juice onto my face.
By the time we get home, it's nearly lunch time and we are starving, so decide to skip the risotto in favor of something quicker.  We pair the steamed asparagus with barely hardboiled eggs and drizzle the plate with plenty of extra virgin olive.  I sop up all the oil with a piece of crusty bread, leaving my plate sparkling clean.  Risotto or not, the wild asparagus season is off to a fine start.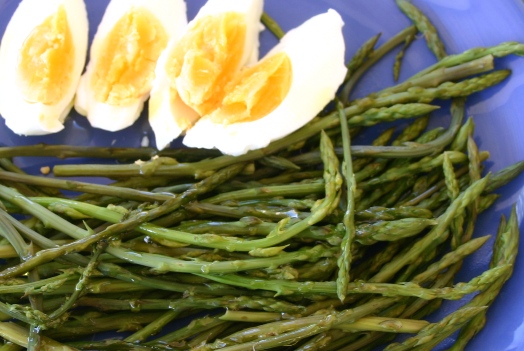 Check out Emanuele's asparagus risotto recipe.
Come with me on a 1-day foraging walk in Sicily.  A guided walking tour in Sicily is the prefect way to enjoy the splendid countryside, and learn about the local history.
Read similar stories about walking in Sicily:
San Giuseppe Wild Iris – a velvety black iris and the legend that surrounds it
Muragghi of Sicily – mysterious stone towers in the Sicilian countryside