The Ligurian coast, part of the Italian Riviera, has lovely views, picturesque towns, challenging and beautiful walking trails and the best focaccia on earth.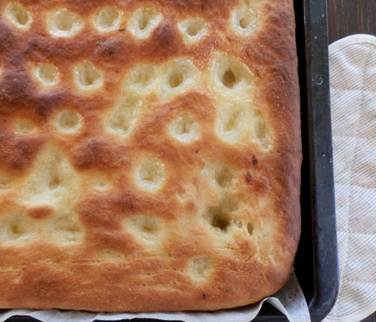 The locals often like to start the day with a crusty strip of focaccia genovese dipped into a foamy cappuccino – not to everyone's taste – and serve focaccia in the bread basket at lunch and dinner.  And when kids come home from school, a snack of focaccia might be waiting.  The hungry hiker on a walking tour in the Cinque Terre will enjoy snacking on focaccia, too.
Ligurian focaccia has a crisp crust anointed with olive oil and salt, and a soft inner crumb.  It's a flat bread, ideal for those like myself that love the crusty part of bread (and also happen to adore olive oil and salt!)
Some of the best Ligurian focaccia can be found in the city of Genoa, in the towns of Santa Margherita and Rapallo, and while walking through the Cinque Terre towns. This recipe has been adapted from one by our good friend Fausto, known as U Giancu, who makes this fresh daily to be served in his restaurant.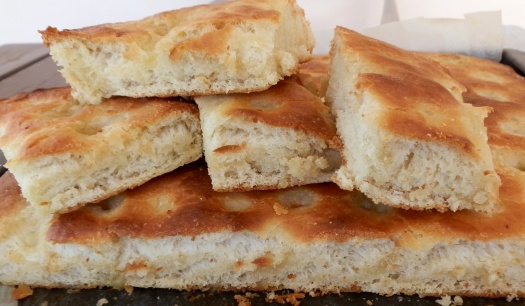 This recipe for Ligurian focaccia is easy to make, but the dough must be left to rise three times in order to get genuine results that echo genovese style focaccia.  Don't skimp on the rising.  Also, the final step of pouring water and oil over the dough may seem odd, but the moisture from the water is what gives the focaccia its crispy crust, while leaving the surface dents soft and perfectly oily.  While it can be eaten plain, focaccia is also good split open and filled with your favorite sandwich ingredients.
Here is the Italian Connection's recipe for focaccia from Liguria:
Focaccia Recipe from Liguria
Ingredients
1 (112 gr,, 4 oz.) 

large boiled potato

435 grams (3 ½ cups) 

flour

40 grams (3 TB) extra virgin olive oil

13 grams (2 ½ tsp) 

salt

200 grams (3/4 cup) 

lukewarm water

25 grams (1 oz) 

fresh yeast

¼ cup 

warm milk

1 tsp. 

honey

For the Top:

1/3 cup 

water

1/3 cup 

extra virgin olive oil

salt
Cooking Directions
Mix the honey into the milk and add the yeast, then set it aside to proof.
Make a well in the flour on a board, and mash the boiled potato into the flour, working it in with your fingers.
Add the salt, oil, and yeast mixture, and mix lightly.
Gradually add in the water and knead to obtain a smooth dough.
Cover the dough with a cloth and leave it to rise in a warm place until it has doubled in bulk.
Generously oil a sheet pan or cookie sheet with a rim, and sprinkle lightly with fine salt.
Press the risen dough into the sheet pan, then cover and leave it to rise in a warm place for 30 minutes.
Make deep dents in the dough with your fingers, being careful not to make holes in the dough.
Cover the dough and let rise again for another 30 minutes.
Preheat the oven to 200° C (425° F).
Sprinkle the dough with salt – you can use either fine or rough salt.
Shake the water and oil for the top in a jar (or mix in a bowl) until it forms an emulsion, then quickly pour it evenly over the top of the focaccia dough.
Bake in the oven at 200° C (425° F) for 20 minutes, until crisp and brown.
Let cool somewhat on rack, then slice into strips or squares.
Pretend you are sitting on a bench overlooking the Ligurian Riviera or the Cinque Terre, and enjoy munching your warm focaccia.