Four of Italy's most prestigious cheeses are being featured on a new series of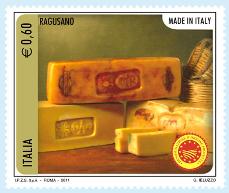 Made in Italy postage stamps.  Or almost four.  The Italian postal service didn't get it together to deliver our Ragusano cheese stamps in time for the inauguration, so they are not yet available in Ragusa – maybe they used the wrong amount of postage?
We are very happy down here in Sicily that Ragusano cheese has been included in this Italian stamp collection, as it's a big deal to be selected from so many great Italian cheeses, and we anxiously await the stamp's arrival.
Ragusano cheese is a DOP cheese made from November to May in eastern Sicily, when the cows are out at pasture grazing on a wonderful variety of over 100 grasses and flowers.  Its peculiar bent shape comes from its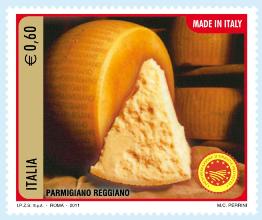 aging process, when a rope is tied in the middle of 2 rectangular loaves of fresh cheese, and hung over a rafter, as if it were astride a horse (which is how Ragusano's lesser cousin caciocavallo – or cheese on horseback – gets its name.)
Naturally, parmigiano reggiano is featured on one of the Italian cheese stamps, as it's considered to be the king of all Italian cheeses – if an Italian could have only one cheese for the rest of his life, he'd probably choose parmigiano reggiano.  But then again, it would be very hard to give up gorgonzola or mozzarella di bufala campana, also featured on the cheese stamps.  Luckily, we don't have to.
Read similar stories:
Weeds for Cheese – Bartering for Caciocavallo
Provola dei Nebrodi in a Spooky Cave
Read about our short culinary tour Bellissima Bologna, where we see parmigiano reggiano being made.
For Ragusano cheesemaking, visit Walking & Cooking in Eastern Sicily.