The hilltop town of Erice in western Sicily is a favorite spot on our Splendors of Sicily walking tour, not only for the town's views and sense of being steeped in history, but for the sweets – more precisely "le genovesi." As you walk from the parking area uphill into the center of Erice, the air gets noticably sweeter, the scent of sugar and almonds wafting pleasantly through the streets.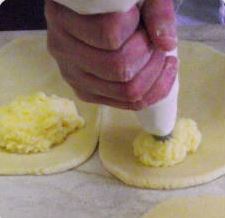 There are many pastry shops in town – such as the famous one of Maria Grammatico – which have taken over the tradition of pastry-making from the cloistered convents that once produced pastries, and where Maria Grammatico spent 15 years of her young life learning the convent's secret recipes. There are a variety of sweets in Erice's pasticcerie, but today, I want to focus on "le genovesi" for no other reason than they are one of my favorite Sicilian pastries to fuel up on before continuing our walking tour in Sicily that leads to lunch (you can tell where our priorities lie.)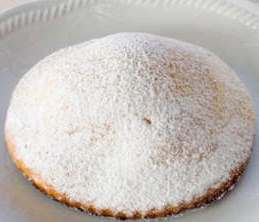 Le genovesi are made of 2 disks of soft cookie-like dough with a crispy exterior, which are filled with custard that should be creamy and scented with lemon zest. These custard-filled pastries sport a dusting of powdered sugar, and are best eaten warm from the oven. Biting into una genovese, the crust should be crisp, the inside tender, while the warm silky custard oozes into the corners of your mouth, and possibly part way down your chin. A heavenly moment. I have used Maria Grammatico's recipe from the book "Bitter Almonds" as a basis for my own version of le genovesi. Try this Sicilian dessert pastry recipe and let me know what you think!
Genovesi Sicilian Pastry Recipe
Ingredients
For the 

Dough

250 gr (1½ cups) 

semolina hard wheat flour

250 gr (1½ cups) 

flour

175 gr (¾ cup) 

sugar

¼ tsp. 

salt

200 gr (7 oz.) 

butter, cut into pieces

4

 

egg yolks

60 ml (1/3 cup) 

cold water, or as needed

For the Custard

 

Custard

2

 

egg yolks

100 gr (1/2 cup)

 

sugar

40 gr (1/4 cup) 

cornstarch

½ liter (2 cups) 

milk

½ tsp 

vanilla extract

Zest of 1 organic lemon, grated
Cooking Directions
Prepare the Dough:
The semolina flour must be ground fine â?? in Sicily I use the flour that is â??rimacinataâ?? or literally â??re-groundâ?? if you cannot find this, you can process your once-ground semolina flour in a food processor for about 5 minutes until it is fine.
Put the flours, sugar, and salt in a large bowl and mix together.
Cut it in the butter with a pastry blender or 2 knives until the mixture is crumbly. Stir in the egg yolks, one at a time.
Add just enough water so that the dough begins to stick together.
Form the dough into a ball, wrap it in plastic film, and refrigerate for at least 30 minutes.
Prepare the Custard Filling:
Beat the egg yolks and sugar with a wire whip in a heavy sauce pan until light and airy.
Beat in the cornstarch.
Heat the milk in a separate saucepan, but do not let it boil.
Pour a small amount of the hot milk into the egg mixture and beat well.
Gradually add the rest of the milk continually beating the mixture.
Cook over low heat until the mixture thickens to the consistency of a light creamy pudding.
Stir in the vanilla and lemon zest.
Place the custard in a bowl, cover it with plastic wrap that directly covers the surface, and once it is cool, refrigerate.
Assembly and Baking:
Lightly flour a wooden board and rolling pin, divide the dough into 8 pieces and roll out one piece at a time to a rectangle approximately 15 x 10 cm (6 x 4 inches) and 1 cm (1/4 inch) thick.
Place 2 tablespoons of the custard cream on one half of the dough, and fold over the other half.
Press the dough together around the mound of custard so that the dough is well sealed.
With a glass, mold, or pastry cutter, cut the rectangle into a round shape, eliminating excess dough (you can save the excess dough and re-roll into simple biscuits or little baby genovesi!)
Place the genovesi on a paper lined baking sheet about 2.5 cm (1 inch) apart.
Bake at 220 ° C (425 °F) for about 7 minutes, or until golden brown.
Transfer the genovesi to a rack to slightly cool, and dust with confectionerâ??s sugar.
The genovesi are best eaten warm.