For the first time in Italian Connection's 23 year history, we are offering a tour that goes beyond Italy, to Istanbul. Our new Two Continents cultural and culinary tour includes visits to sites in Sicily before heading to Istanbul, where I first tasted this delicious red lentil soup. I researched various recipes in order to come up with a dish that was reminiscent of the Turkish red lentil soup I'd enjoyed, and this is very close.
Red lentils do not require soaking, so making this soup is quick – it's low calorie and good for you too, so what are you waiting for?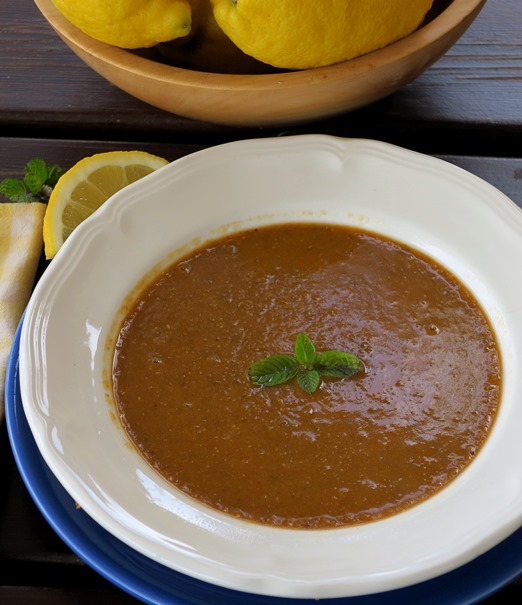 If you don't want to cook, than come on our tour and taste this! In 2015, we are offering the Two Continents Tour from Sept 7-12, 2015 with some fabulous food, tasting our way through the street foods of Palermo and a dazzling food market in Istanbul, and visiting the wealth of amazing sites that both Sicily and Istanbul have to offer. See our current special offers on all our tours.
But back to the red lentil soup. Here's the recipe:
Turkish Red Lentil Soup Recipe
Yield: 4-6 servings
Ingredients
8 oz (225 gr)

 

red lentils (whole, peeled, or split), thoroughly rinsed

2 TB

 

extra-virgin olive oil

1 

med onion, diced

2

 

med carrots, cut into chunks

1

 

clove garlic, thinly sliced

2 TB

 

concentrated tomato paste

1/2 tsp

 

ground cumin

1/8 tsp

 

cayenne pepper, or to taste

5 cups (1.25 litre) 

vegetable broth* (or chicken stock)

Lemon wedges and 6 leaves chopped mint for serving
Cooking Directions
In a large pot, heat the olive oil and sauté the onion, carrot, and garlic until the onion is transparent.
Stir in tomato paste, cumin, and cayenne.
Pour in the broth* and lentils and bring to a boil over high heat.
Lower heat and simmer, uncovered, until vegetables are soft and lentils begin to fall apart, about 25-30 minutes.
Use an immersion blender to blend the soup until it is creamy (you can also use a blender to puree in batches)-the texture will be a bit grainy if you use whole lentils.
If soup appears too thick, add some broth or water.
Adjust salt, cumin and cayenne to taste.
Top with chopped mint and serve with lemon wedges to be squeezed over the soup.
*Prepare vegetable broth by bringing 6 cups (1.5 litre) of water to boil with 1 onion stuck with 3 cloves, 3 peppercorns, 1 carrot, 1 stalk of celery, 1 small tomato, 3 sprigs of parsley, and 1 tsp. salt.
Bring to a boil, then simmer until vegetables are soft.
Strain out the vegetables and use the broth in the soup.