It's hot. Not just any hot, but Sicilian hot. Which is why we are out at 8.00 am, before the heat forces us to stay locked indoors until sunset. It's time to pick capers.
Caper plants thrive in stone walls and rocky crevices, and disdain rich earth – in fact the few that I have managed to grow in a pot are decidely puny, while a cliff of limestone sends the capers into a fit of ecstatic growth.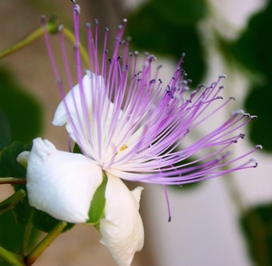 And then there are the flowers. Exquisitely delicate, they last no more than 24 hours, leaving behind a stem with a tiny seed pod that will grow into a caper fruit, called cucunci in Sicily.
But I've gotten ahead of myself. The capers are the buds of the flowers before they open. In Sicily, they are traditionally preserved in salt, which is easy to do at home.
Start by picking as many as you want, choosing the tight healthy buds – leave the large ones that are ready to open into flower so at least someone else may admire it in the next 24 hours.
We like to combine a lovely walk with caper picking in the canyon of Misericordia near Ragusa, where sprawling caper plants drape the limestone cliffs, and we are far from any kind of pollution. A 15-minute downhill walk brings us to a narrow trail that hugs the cliffside, and capers grow in profusion As birds sing we rustle through the caper leaves, the scent of wild mint in the air. The tiny buds break off easily in our hands, and we quickly filling a small bag.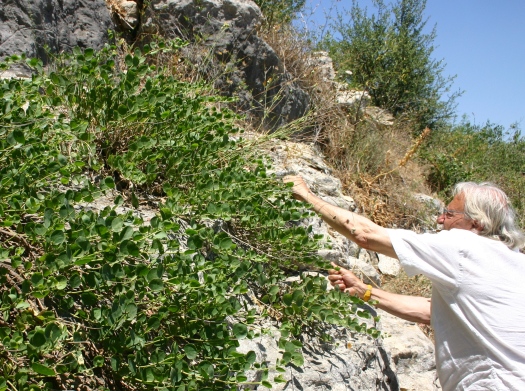 Before trekking back to the car, we stop to cool our feet in a clear stream, and Emanuele flicks tadpoles with his toes. The sun is hot on our backs as we continue our walk which has clearly become a trudge, and we realize that we should have started at dawn. At least we had the good sense to park in the shade. A short drive with the A/C blasting and we are back in the kitchen with our caper stash.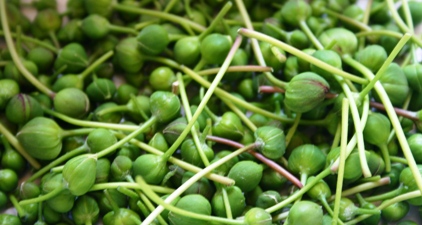 Once they have been cured in salt, capers can be used in many recipes, such as this pasta dish. Here is how to preserve capers in salt so they end up looking like this: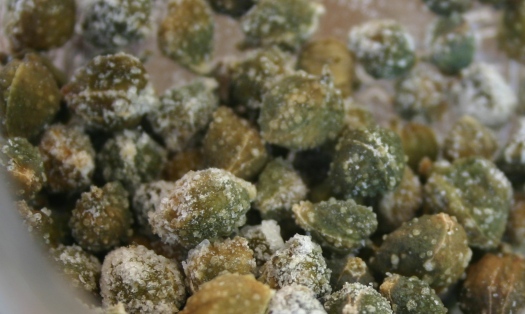 Recipe type: Breakfast
Author: Anita Iaconangelo
Prep time: 5 mins 
Cook time: 1 week
Total time: 1 week
Serves: As desired
Ingredients:
Capers
Sea salt
Instructions:
Go through the capers carefully, picking off any extra-long stems and stray ants (particularly important if you are vegetarian).
Rinse them in a colander, and pat dry on a dish towel.
Place the capers in a jar, layering them with fine sea salt.
(If you have a lot of capers, it's better to use 2 small jars than one large one.)
Cover the jar with its lid and shake it to make sure the salt is well distributed.
Remove the lid and cover the jar with a single layer of a paper napkin or tight netting, and close with an elastic band.
Leave it in a place where it will get some airflow, but not in direct sunlight – a breezy countertop is good.
Every day, drain off any liquid that forms, and add another spoonful of salt.
After about a week, or when the capers stop giving off liquid, transfer to a clean jar/storage container and cover with a lid.
The capers can be kept on a shelf for up to one year.
Read More: