Yesterday, I went to see a friend in Noto, about 40 minutes from my house near Modica, and ignored the obvious route on a map, turning instead onto a back road, where I saw  a total of 2 cars in 20 kilometers (one of which was parked. ) 
Fueled by Caffè Sicilia's good coffee and a hunk of creamy strawberry cake, I took a different road on my return, one which is full of twists and turns and lovely landscapes. Not once along the way did I encounter a sign for Modica.  
If I had taken the main road signed to Modica, I would have encountered this: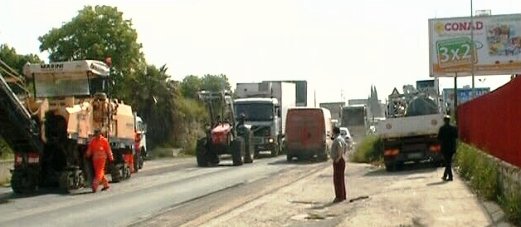 Admittedly, on the back roads that I am fond of, there is occasionally a traffic jam.  It looks like this: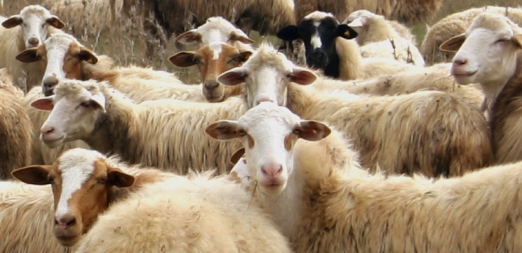 And there are other hazards.  Beware of  wildflowers trying to push their way through your open car window: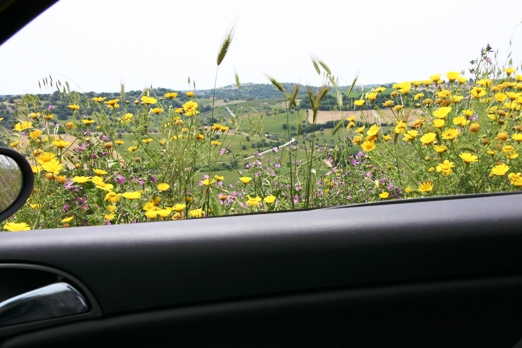 For those in a hurry, these minor roads can actually get you to your destination just as quickly as the main roads, but the countryside is so lovely that you are compelled to at least slow down, if not come to a complete stop to admire it.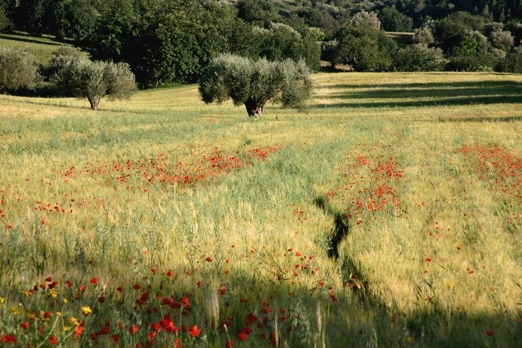 Right now is the beginning of haying season, and the countryside is cloaked in myriad shades of green with beautiful patterns carved into the landscape.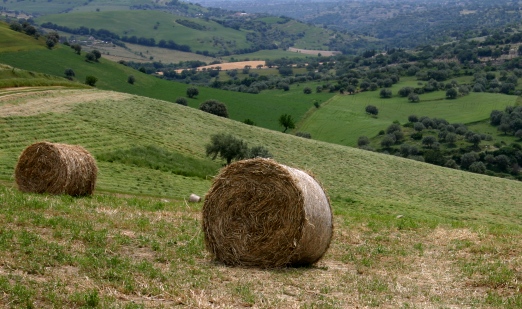 If you see a road sign like this, you'd be forgiven for being confused. Or pissed off.  Once you've lived in Sicily for a
while, you hardly notice these things; you just turn left towards Palazzolo Acreide.  Don't worry – if you are driving in Sicily, you'll probably never get to this sign, which is located on a beautiful minor road that is blissfully free of traffic.  Instead,  you'll be arguing with your spouse about finding parking a space.  Or worse yet, having a lousy lunch.
I am occasionally stopped by wild-eyed tourists, desperate to find their hotel in a maze of streets that are narrower than their rental car.  Or having seen a sign for their destination, have foolishly followed it, only to become hopelessly lost.  Sound like a vacation?  Not to me. 
It took me years to find many of the routes I now take for granted, and every season offers a different color and texture to the landscape, along with something good to eat. These are the things I want visitors to appreciate when they come to Sicily, so if you are in my neighborhood, let me show you around.  You'll enjoy a relaxing time, and insider sites not found in every guidebook.  You can learn to cook, or take walks in the countryside or the Mt Etna volcano- whatever you do, you'll be assured of a great lunch.  And a parking spot.
Italian Connection offers small group scheduled departures in Sicily, with walking tours, cooking classes, and visits to archeological sites.  If these dates don't fit your travel plans, call us to book a private custom tour with everything your little heart desires.  1-800-462-7911.