Here are a couple of pictures that Pauline Erickson sent from her walking tour in Western Sicily & the Egadi Islands.  Thanks for sending these Pauline – they brought back great memories.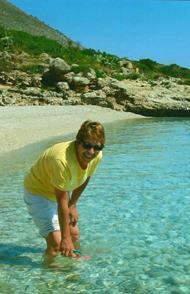 The  turquoise sea proved to be just too inviting, as Pauline wades in to cool off her feet during a spectacular walk in the Parco dello Zingaro, a protected  coastal park with lovely coves and rocky beaches.
One of the off the beaten path sites we visit on the western Sicily walk is the Cava di Cusa, an ancient Greek quarry that was used for building the temples at Selinunte.

The Cava di Cusa is an evocative site with few tourists, where you'll find remains of the columns from a huge unfinished Greek temple patiently waiting to be transported for the last 2500 years.
See a day-by-day itinerary of the Western Sicily & Egadi Islands walking tour.